Kacy Hill's Kanye-Approved Pop
The singer talks about working with West and making a music video in just ten minutes.
You started modeling at the age of 16, after being discovered by a wedding photographer — and then moved to L.A. to pursue it after high school. How did you first become interested in music?
I got into music after meeting Stephen Garnett [her music-video producer], who directed the video for "Experience." He introduced me to Jaylien Wesley [a record producer/songwriter], and we immediately started writing together. All the elements kind of just clicked together at the right time and took off. I never really felt very passionate about modeling because there wasn't a lot of creativity in it. It wasn't something I really wanted to do; it was something that was there, so I went after it. Music has involved a lot of self-discovery — tapping into my creative side and being able to do things on my terms.
You were signed to Kanye West's GOOD label in 2014. What has GOOD Music been like so far? Do you interact much with Kanye?
I think he's such a creative person. He has such a tremendous energy. He's just so passionate about what he does. I'm happy to be on a label [with people] who feel so passionate about what they do, especially after doing it for so long. It's refreshing to see people who aren't jaded about the industry.
You have really great, clear skin, by the way. Do you have certain products you use?
I just eat really healthy and drink a lot of water. I only use Cetaphil face wash and lotion and a lot of sunscreen. I don't use a million different things. I don't wear a lot of makeup, which I think helps. That's basically all it really is: You don't need to use the fancy stuff — just use the gentle stuff and drink a lot of water.
Tell me a little bit about the concept for the "Experience" video — and where did you get that visor you wear in it?
Stephen Garnett shot that video. It's funny because we literally shot it in ten minutes. It was at the beginning of the Yeezus tour, I had to go to a rehearsal and I was getting off of a plane and I was really late. Stephen said, "We have to shoot it. It'll be so cool." I was like, "I'll stop by for ten minutes. That's all I have." He just had that visor sitting in his apartment — he always has weird things.
Vintage sequined blouse from Western Costume Co. (Photoraphs by Shae Detar, styling by Amanda Lee Shirreffs, Makeup by Dina Gregg.)

The new female musicians to see this summer.
Kacy Hill's Kanye-Approved Pop
Photographs by Shae Detar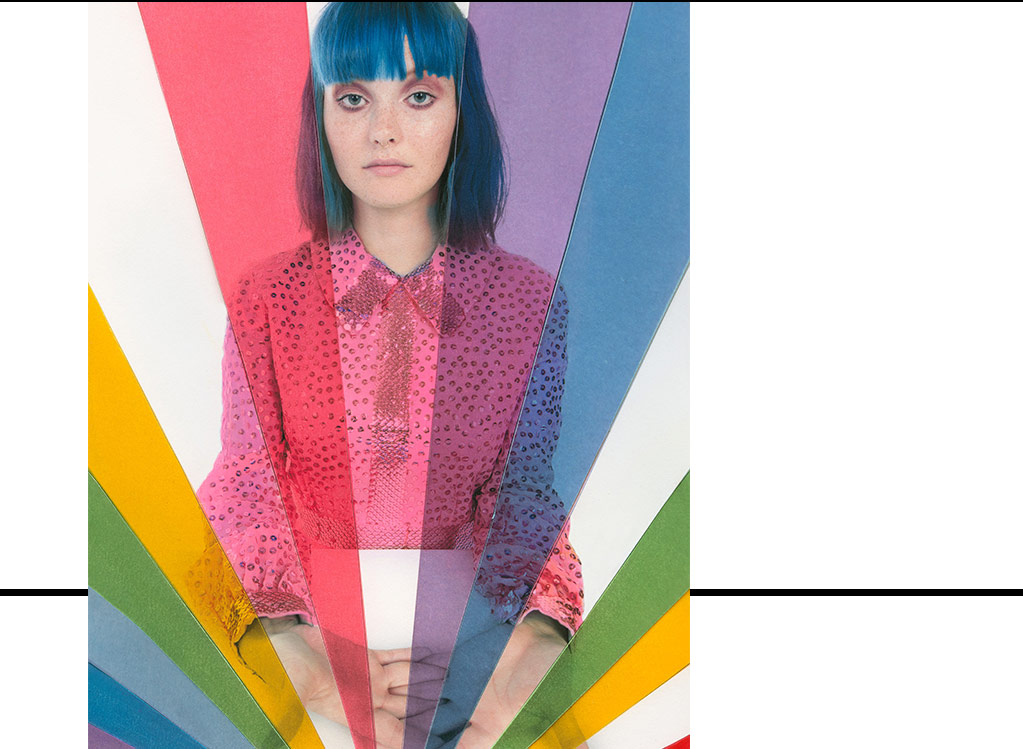 Name: Kacy Hill
Age: 21
Single to Hear: "Experience"
Single Coming This Summer: "Foreign Fields"
Video to Watch: "Experience" https://www.youtube.com/watch?v=aRBkpwlHtkA
Hometown: Phoenix, Arizona
Twitter: @kacyhill
Instagram: @thekacy
Last year on the Yeezus tour, someone gave Kanye West a single to listen to: It was "Experience," by Kacy Hill, a 20-year-old singer who happened to be one of his backup dancers. Kanye met with Hill after his Atlantic City show, and immediately signed her to his label, G.O.O.D Music. Since the ethereal yet catchy electronics of "Experience" hit the internet in late 2014, the song has generated over 200,000 SoundCloud plays; Hill's next single, "Foreign Fields," will arrive in May. She spoke to the Cut about working with Kanye and how she filmed her first video in just ten minutes.