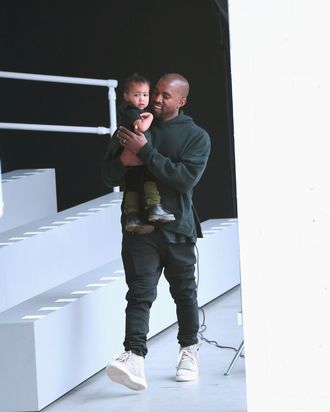 Kanye West with his very own toddler, North West.
Photo: Gary Gershoff/Getty Images
In a first-person cover story for Paper magazine, Kanye tells interviewer/transcriber Gabby Bess:
My goal is to be as close to a five-year-old, or a four-year-old, or a three-year-old, as possible.
What he means is that he would like to be able to declare a preference for something without being judged or critiqued for his taste. ("If a three-year-old says, 'I like the color orange,' he's not giving an explanation to an entire world that can give him a thumbs-up or a thumbs-down on whether or not he should like the color orange. I don't care about the thumbs-up or the thumbs-down.")
Really, though, that statement needs no explanation. Who wouldn't want to be a toddler again? And ideally have someone offer you snacks whenever you get cranky?
Sounds like this adult preschool might have a celeb endorsement to chase!