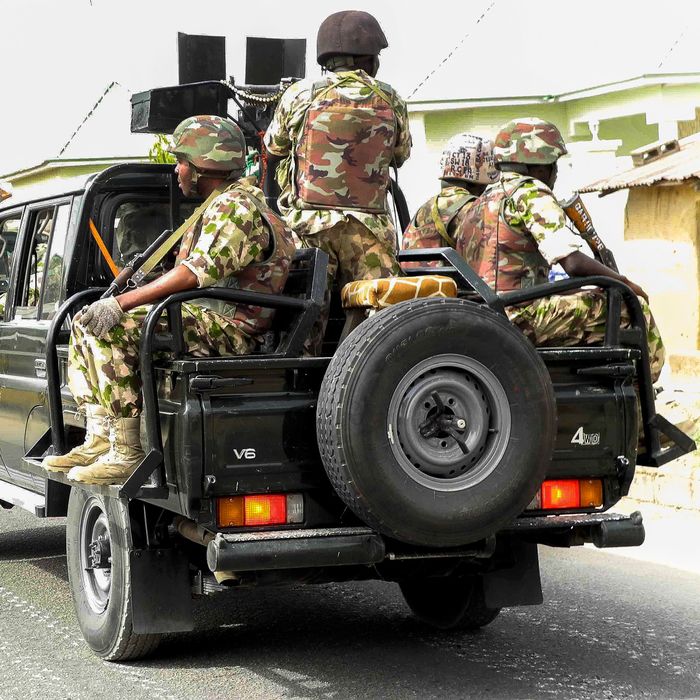 The Nigerian military on patrol earlier this year.
Photo: STR/Corbis
An hour ago, the official Twitter account of the Nigerian Armed Forces reported that they'd rescued 200 girls and 93 women after a military raid on the notorious Boko Haram camps in the Sambisa forest. The Nigerian Armed Forces have not yet confirmed whether the Chibok girls are in this group; the hostages are currently being screened and profiled. According to subsequent tweets, the Armed Forces destroyed three major terrorist camps.
April 14, 2015 marked the first anniversary of the raid on a Nigerian school in Chibok that captured international attention: 276 female Christian students were kidnapped by Boko Haram terrorists while attempting to take a final exam. Fifty-three escaped, but the remaining students have been forced to convert to Islam and many have been married off to Boko Haram soldiers. In June, 20 more women were kidnapped near Chibok. Four subsequent escapees have said they were raped daily.
Updated: According to the AP, the group does not include the Chibok girls. It's not yet clear where the victims come from; according to Amnesty International, Boko Haram has kidnapped 2,000 women and girls since the start of 2014. Medical and intelligence teams are being flown in to assess the freed captives. "The processing is continuing, it involves a lot of things because most of them are traumatized and you have got to put them in a psychological frame of mind to extract information from them," Col. Sani Usman told the AP.