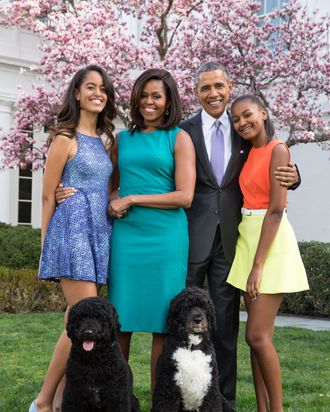 Two influential adults, two teens they live with, two fun dogs in formalwear
Photo: Pete Souza/The White House
In Washington, D.C., this past weekend, local resident Michelle Obama commented on the contemporary-teen sphere of influence and said her daughters aren't on it. She knows influence, believe her, and her daughters have got none of that happening right now. Bless them, she loves them more than the world, but they are maybe the least influential people she lives with.
A news anchor mentioned that, in fact, her teen daughters were listed in Time magazine's 25 Most Influential Teens of 2014. Obama said: 
I don't know why [they're on the list] — they're not influential, they just live here. They have done nothing to gain any influence. I don't think they even realize that they're influential. I don't think anybody showed them that article, so don't mention it!
Time magazine's list of influential teens? Ha! And also, they wish, and also they have no idea about that anyway, which will show you how much "influence" they're wielding around. Goodness. Never be influenced by a teen, that's the real talking point here.