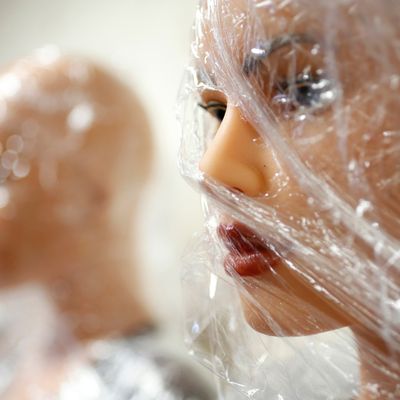 Pictured above is a Dreamdoll, not a RealDoll, but close!
Photo: Vincent Kessler/Corbis
Dating is a chore that we do because, presumably, we like human connection. Well, most of us do, anyway.
For the others, there are RealDolls, anatomically correct rubber women, which can be customized and created on demand.
This month Vanity Fair has a story on RealDoll factory Abyss Creations, and its founder Matt McMullen. It is equal parts fascinating and existentially debilitating.
The dolls themselves could feed countless think pieces, but what struck me most here was the character of David Mills, an author of a book on atheism, twice divorced and admittedly a loner at heart. David's first wife came to him through Communist Poland, plucked from the obscurity of a mail-order-bride catalogue. That marriage lasted 18 years, until he met his second wife online. "That marriage ended right before she was arrested by the F.B.I. for a white-collar crime. Mills has avoided relationships ever since," writes George Gurley.
Human relationships.
Now David is blissfully ensconced with Taffy, a "'Body A' RealDoll2 model (83 pounds, 33–24–35 measurements, custom freckles)," whom (whom? which?) he purchased for $7,149.
On the one hand, whatever! It's his money! It's not like custom dildos aren't a thing. But on the other: no! Dolls are not a substitute for human-to-human contact, for intimacy. Let all the men play with their dolls; I fear only what this says of our humanity.