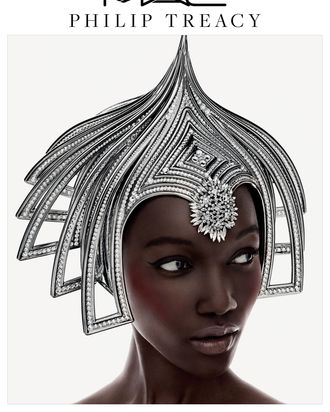 Phillip Treacy x MAC.
Photo: Courtesy of MAC
"It's bright!" says Philip Treacy, cheerfully, when I announce that the hot-pink matte lipstick I'm wearing is the No Faux Pas shade from his new MAC collection. It is bright — deliciously so — and also manages to stay put throughout my lunch, so I'm an immediate fan.
Coming on the heels of Giambattista Valli's collaboration with the brand last fall, the Treacy collection is a marriage of millinery and makeup: Treacy has created three hats that emphasize different parts of the face — the eyes, lips, and cheekbones — and used elements from their design to develop his MAC products. A colorful feathered headdress inspired my lipstick and two others, in vibrant Cardinal (burgundy) and Hollywood Cerise (magenta berry), each $16. A black-lace mask, which covers the entire head, revealing only one eye, inspired Pro Longwear Paint Pots ($21) and Fluidline liners ($16) in shimmering metallics and tropical blues.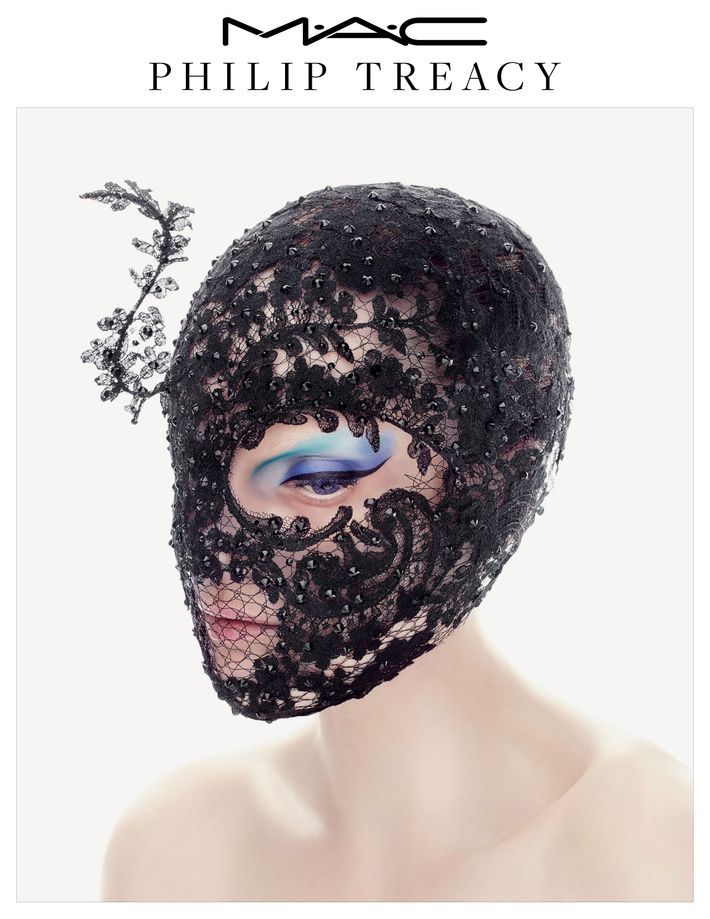 Then there's the High-Light Powder ($32) designed with Art Deco arches in pale pink and silver, and it ties in with a sparkling metallic hat from Treacy's archive. "It comes from an image of Greta Garbo in a movie called Mata Hari, so I just ordered it to be made up a bit more 21st-century," he explains.
This meant using 3-D printing, which Treacy describes as "like Star Trek. I worked in reverse — I made the shape of the hat, then I scanned it and perfected it on the computer. Then it's a vat of liquid, and a laser hits the liquid, and the top of the piece starts to appear out of thin air. It's like an illusion."
While the makeup is very much designed to be used, the hats are Treacy's couture pieces — created to inspire. I ask him if they're available to buy, and he smiles. "Well, yes … " he says. "But they're mainly available to look at."
The MAC Philip Treacy collection is in stores through April 30.