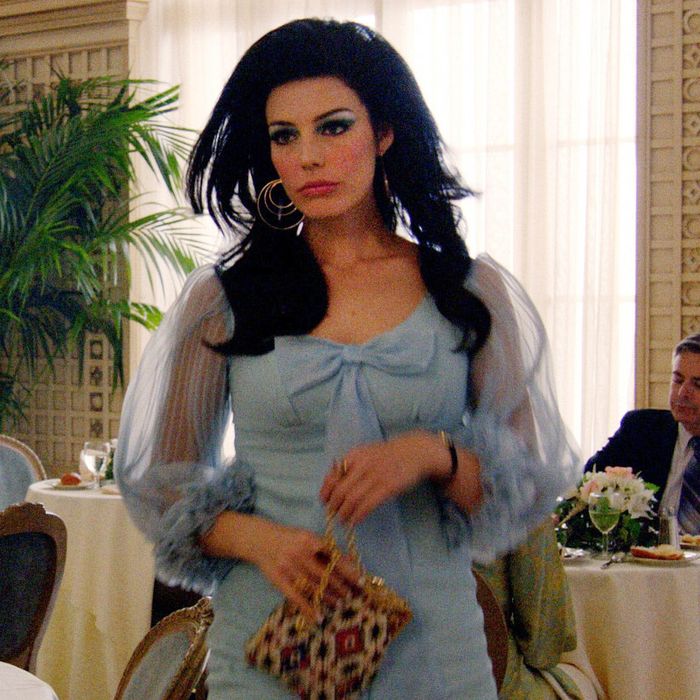 Megan Calvet in last night's episode of Mad Men.
Photo: Courtesy of AMC
In case Megan's groovy teal phone didn't tip you off last night, this show is officially in "having outrageous fun with the '70s" mode. (See also: Don's paisley towel and clashing paisley bedspread.) We also get to see Betty and Megan again, in quick succession. Betty, who's about to go back to school for her master's in psychology, wears a ruffled print maxidress with a matching set of pearl jewelry, while Megan, calling from L.A., is in the youthquake version of the same outfit: a more skin-baring, cooler-looking ruffled halter dress.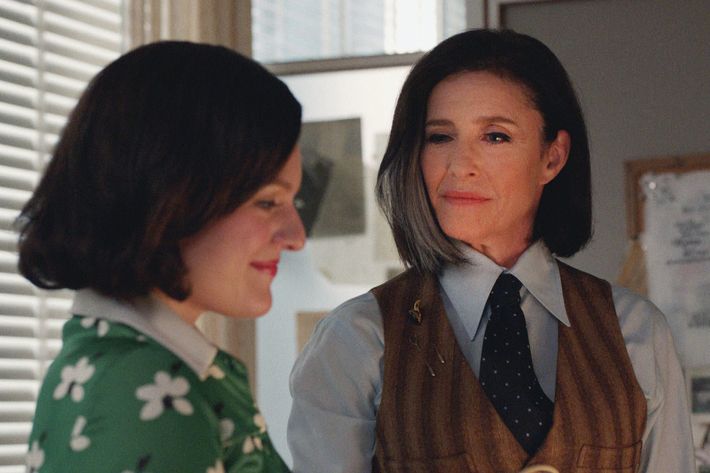 Menswear-as-womenswear style — after all, this is the decade that produced Annie Hall — finally gets its moment on the show when Pina, a Bianca Jagger–like androgynous dresser, does a photo shoot for the company and manages to get entangled with both Peggy and Stan. Her wide ties, banker shirts, and coordinating vests and trousers are the most polished look at the agency, short of Don's suits. And though Peggy is ostensibly Pina's boss — as she needs to remind her more than once — her twee, floral outfits don't exactly give off that impression. Perhaps she'll inspire her to make a return to pantsuits?

Trend-happy Megan rarely repeats an outfit, so it's significant that in this episode, she finally does. While her acting career is foundering (despite the fact that she has Angie Dickinson's agent!) , she banks on lunch with Harry as a way to jump-start it. For that lunch, she switches from her simple peasant top and flared jeans — the outfit she's wearing to move all her stuff out of Don's house post-divorce — into the blue dress she wore on the season-seven premiere, when she was greeting Don in L.A. (She memorably wore it while stepping out of a convertible.) The dress fits into her conception of herself as a capital-A Actress, and perhaps she's worn it to give herself confidence, accessorized with giant hoop earrings and dramatic sky-blue eye makeup. While Harry turns out to be an unhelpful creep, the dress does, in a sense, work its magic: Megan heads to Don's office, where he writes her a check for a million dollars — what you might call "go-away money." You can already see Megan's dream wardrobe — involving plenty of Pucci and satin pj's — taking shape in her mind. Is anyone else dying to see how Millionaire Megan will dress?