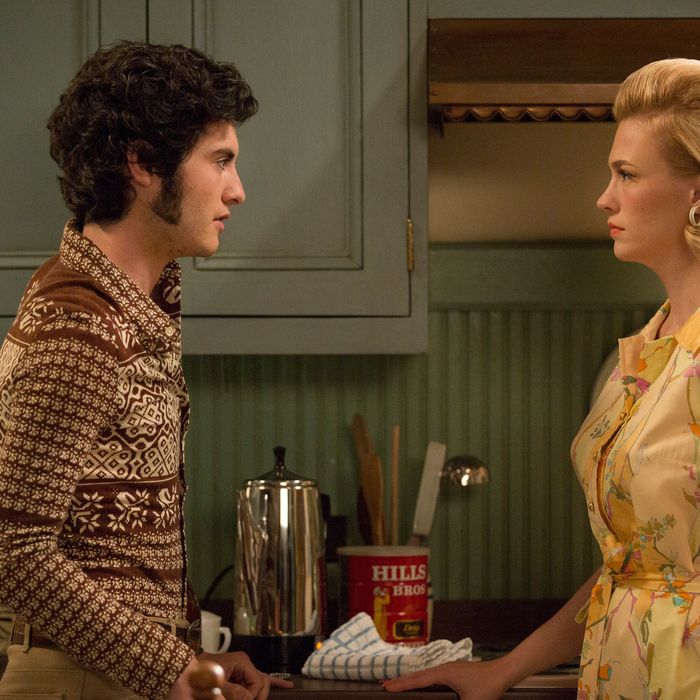 Glen and Betty in the Mad Men episode "The Forecast."
Photo: Justina Mintz/AMC
Mad Men has always pitted the hippies against the gray-flannel-suited squares — just think of last season, when Roger tried to rescue his daughter from an upstate commune, or even back to Don's affair with Midge the beatnik in season one. But those interactions don't always constitute out-and-out warfare; rather, the free-love generation both energizes and exasperates its elders. This episode turned that tension up to 11. Betty, in her garden-party florals, was stunned by the arrival of Glen Bishop, formerly a creepy, hair-collecting kid, now a trim hippie with peace-sign bell-bottoms. The only thing that's unchanged is that he still clearly has an unresolved thing for her. 
Betty and Glen's interlude isn't the only weird intergenerational moment on this episode — Don attempts to bond with Sally and her friends from her teen tour, all wearing their flower-child finest, and seems to drink in the attention of one 17-year-old teen tourer in particular. Later, Sally scolds him, "Anyone who pays attention to you — and they always do — you just ooze, everywhere." In two episodes, Don's gone from being in a diner with three beauties on his arm to hitting on his daughters' friends — and, just as embarrassingly, trying to bro down with them while making sure they know he's a successful adman. Perhaps he's hoping that a little bit of their youth and innocence (think about it: What adult would be that excited about visiting Washington, D.C.?) rubs off on him.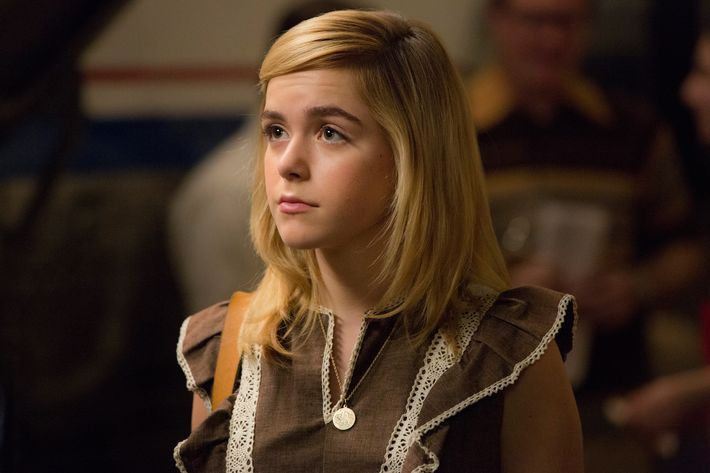 Meanwhile, Joan is trying to keep her babysitter Maureen, who favors a Gloria Steinem vibe of peasant tops and bell-bottoms, in line. The contrast between Maureen's collegewear and Joan's '50s-style polka-dot blouses and long caped nighties is stark, even if their age difference isn't that big. Joan is struggling with adult problems: being a working mom, trying to balance a business trip with staying in touch with her son, and dating a man who is put off when he finds out she has a child. Maureen, meanwhile, can't even be bothered to remember what animal Joan's son Kevin has nightmares about (it's a cow, not a horse). And when Joan's fledgling relationship starts to crack, she lashes out at Maureen, who clearly has a much more unfettered life than Joan did at her age.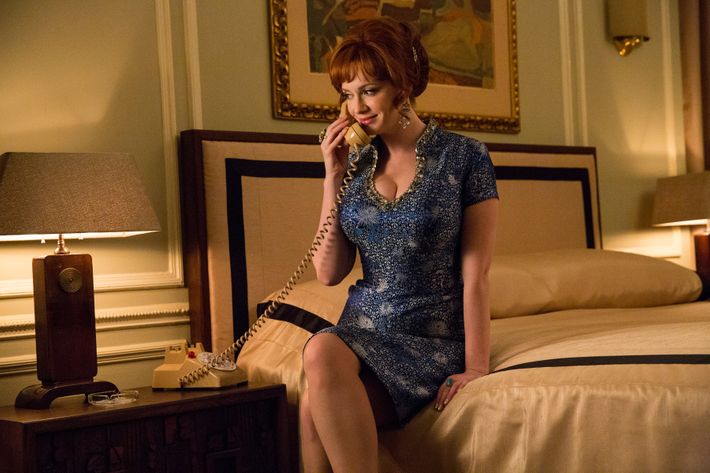 The generation gap between Don and Peggy isn't nearly as wide as the other ones the episode focuses on, but when Peggy goes in for her performance review, looking sharp in the striped matching set she's worn before, the divide between the two is palpable. She proudly says that she wants to be advertising's first female creative director. Don immediately puts a pin in Peggy's enthusiasm, given that her youthful idealism is cresting just as he's facing a career (and personal) nadir. So much for the mentorship Don had offered Peggy; career-wise, it seems like she is already starting to lap him.