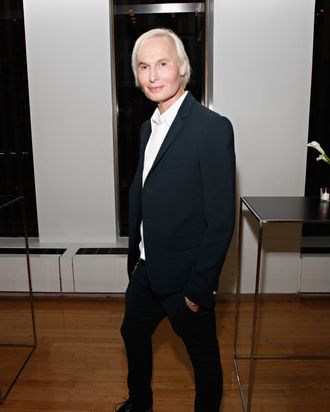 Dr. Fredric Brandt.
Photo: Cindy Ord/Getty Images
Last night, the Daily News announced that celebrity dermatologist Dr. Fredric Brandt was found dead in his Miami mansion at the age of 65. In the beauty world, this is huge news — Dr. Brandt was incredibly well-liked and charismatic (in 2008, New York described him as having a "Dr. Evil–meets–Pee-wee Herman persona"), he did more to popularize the use of Botox than anyone else, and perhaps as many as 70 percent of the beauty editors in New York were regular patients of his. Allure quickly published a tribute last night, while Cat Marnell went all-caps on Twitter to express her disbelief.
Along with his connections to Madonna and many other celebrities, Brandt was most known for ushering in what New York called the "New New Face": a type of face-lift that achieved volume and fullness, rather than tightness. He was also credited with creating the "Y Lift," in which he injected filler under the cheekbones, and the "Botox Neck Lift," in which Botox was injected into the neck as well as the face. His Dr. Brandt's Lineless Lines No More is, according to Allure, the No. 1 best-selling dermatological beauty product in the world. And a dermatologist character who looks uncannily like Brandt, played by Martin Short, makes a couple of appearances in Tina Fey's new Netflix comedy, The Unbreakable Kimmy Schmidt.
Brandt, who regularly tested products on himself, once described his approach to Interview: "What I try to do is to make your face look like it did when you were younger. I always tell people it's not just about filling in the lines, but re-creating the shape of your face as it was in your early- or mid-twenties. I think it's all about restoring the contours. You can fill in a line and it makes you look a little better, but it doesn't make you look younger."
Although it's now common knowledge that sun protection and a healthy diet are beneficial to beauty, Brandt was one of the first doctors to champion a healthy-lifestyle approach. He was known for waking up every day at 6:30 a.m. to do an hour and a half of yoga, and followed a sugar-free, often gluten-free diet. He was also an avid singer with a warm bedside manner who warbled show tunes like "Younger in Springtime" to patients while they were getting painful procedures — or rapped, as he did on the voicemail he once left for Stephanie Seymour: "Stephanie, where are you? I know you're only 22. I've seen you in the magazine, you're looking really keen. I like that little ad. You don't look at all very sad."
Reports of Brandt's cause of death are varied. His long-standing publicist, Jacquie Tractenberg, said his death "came after an illness." Some unsubstantiated reports claim that Dr. Brandt suffered from depression. And Allure's Joan Kron reports that when she spoke to him recently, he was particularly upset about the Schmidt character. Whatever the reason, Brandt will be missed by countless men and women.
Update: "Page Six" reports that the City of Miami Police have ruled the cause of death as suicide by hanging. Tractenberg told the paper, "The show definitely deeply hurt him, he was being made fun of because of the way he looks. It is mean, and it was bullying. But the show was not the reason for his depression, and it was not the reason he would take his own life."