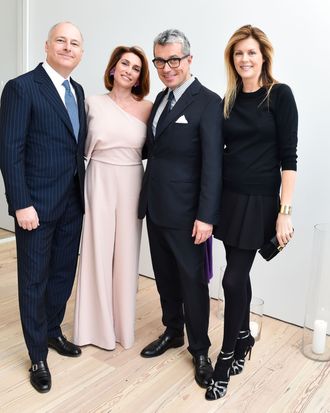 Renzo Piano designed a bag that looks like the building.
Photo: Billy Farrell/BFAnyc.com/BFA NYC
Last night's party to officially open the new Whitney Museum began with a dinner for 80 and, inevitably, there were a few toasts. "I can hardly say who invented the building, honestly," said its architect Renzo Piano, noting that the project involved many long committed to the museum. Luigi Maramotti, the chairman of Max Mara, which underwrote the evening and whose family is a major collector of contemporary art, said it was rare to witness "history in the making," as he characterized the building. He then added, "I have only one fear — that it's going to be too successful. I'm serious. The success is going to be overwhelming."
Little did guests — a group that included the artists Julian Schnabel, Ross Blechner, Fred Wilson and Sarah Morris, the actress Sarah Jessica Parker, the curator Thelma Golden, and Whitney board co-chairperson Brooke Garber Neidich — know that while they were eating ricotta-stuffed ravioli and poached sea bass with roasted mushrooms on the eighth floor, Maramotti's prediction had already come true. Some 4,000 people jammed the gallery floors, invited for the after-party. Each time the elevator doors opened there was another crush of people. All ages. And dress ranged from Friday-night utilitarian to fanciful eclectic. One sensed, in fact, that they had come to see how the art looked in New York's newest public space.