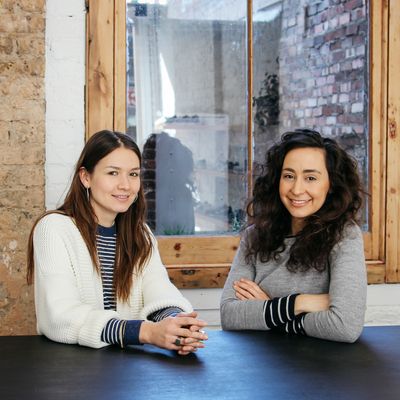 Bethany Haggarty and Rio Holland of Pam Pam.
Photo: Dean Martindale
There's a new theme every day on It's Vintage. Read more articles on today's topic: Sneakerheads.
Limited: a word lauded by the sneaker world and, unfortunately, one that all too often describes women's place in it. A narrow range of sizing and lack of diverse colorways has led some female sneakerheads to create their own solution — buying their kicks from the boys' section. And in 2013, Londoners Emily Hodgson and Emilie Riis created a Nike Fantasy Shop filled with sneakers they wished were available in their size, in the hopes of getting the athleticwear giant to notice.
Within the last few years, it seems major athletic brands are starting to take notice. Retro sneakers are resurging and making their way onto the runways (think the Stan Smiths on the Céline runway) and inspiring high-fashion designers (notably Isabel Marant and Stella McCartney). There's been an influx of sneaker collaborations with female style icons — Solange as the art director for Puma, Rihanna as the creative director of Puma, Rita Ora for Adidas, Vashtie for Puma and Nike, to name a few. Most recently, Nike's expanded its Jordans range to a women's size 11.
Pam Pam, the U.K.'s first women's-only sneaker store, plans to help keep that momentum going. Founders Rio Holland and Bethany Haggarty opened their retail store last month, after working as managers at Number Six, an independent menswear boutique in London. "We worked in menswear prior and found that a lot of women were really liking what was out there for men," Holland tells the Cut. "With the sneakers, in particular, in the women's ranges there was always a smaller offering and also the offering was a bit jazzy, or glittery, or bright colors — and girls really enjoyed the more neutral tones." The store also carries athleisure-style clothing and accessories, like bucket hats.
The Cut spoke with owners Rio Holland and Bethany Haggarty about '90s Missy Elliott, their favorite vintage trainers, and the sneaker trend they wish had never happened.
What drew you to sportswear, specifically sneakers?
Rio Holland: I've been into sneakers for a really long time and I've worked in menswear for a number of years. What I find I like about sneakers is they're easy to wear. The reason I love men's clothing as well is because of the neutral offerings especially in the sneakers in particular. I'm not a very girly girl, so it's just nice to have stuff that's not.  
Bethany Haggarty: I'm not massively into sneakers. It's definitely Rio driving the sneaker side of the store. I'm one of those girls that got onboard later on in life. I tend to wear classic sneakers like Vans or Converse, maybe more of the Scandinavian take on a sneaker.
There still isn't as much of a community for women who are into sneakers. But athletic brands have started to expand their women's sneaker ranges. What was the moment you started to notice that shift?
R.H.:  I was working at a sneaker store back home in Australia and it had a small selection of women's, but the women's wouldn't really sell. The selections that brands were putting out for women were still really, really tiny. I think Nike really pushed it with their more sporty, technical, and running lines. Puma was doing a few collaborations with women way back when, which was really cool. I think it was Claw Money [Nike] did, and that was late 2000s. It was happening kind of gradually, it was swaying toward that way. I couldn't really pick a brand that sort of changed at first. I just remember Nike more so because of the advertising.
B.H.: For women, lifestyle became such such an important thing and so did health and fitness and well-being. Nike really pioneered that section with their technical shoes and their clothing. But over here [London], there was a big surge of women dressing really smart, really sophisticated, suiting head-to-toe and then they had on a pair of Reebok classics or classic Adidas like Stan Smiths. It's just part of their wardrobe, it's not a fad.
What are some of your favorite vintage sneakers?
R.H.: My first-ever pair of shoes, I was 5 years old, and I pointed them out to my mum. They were the Air Jordan 7s in the original black colorway. So, at heart I've always been a Jordan fan. I love getting around in some Air Maxes. I've got an amazing old pair of [Adidas] Orions, which I don't think they do or Adidas hasn't done a release in a while. It's hard to pick a favorite pair of shoes, because I've basically had all of them. Reebok Pumps were another one I had back in the day. We find that a lot of the women that come in really do enjoy the retro silhouettes as well.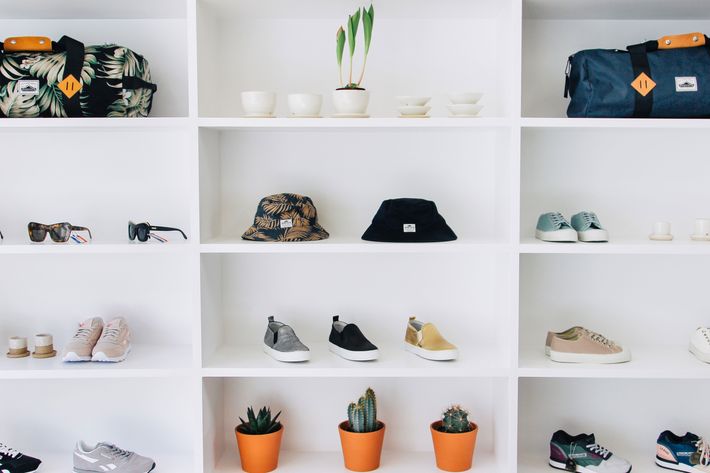 How many pairs of sneakers do you own, and what's the rarest pair you have? 
R.H.: Unfortunately, I had to cull a lot of my sneakers prior to moving to London. I still have at least over 100. And the rarest? Tucked away in my cupboard is a pair of the original release Alife x Reebok Victory Court Pump Ball Out kicks. They are way too big for me, but I really liked them and just had to get them! You know how it is.
What sneaker trend do you wish had never happened?
B.H.: I definitely think sneakers with heels were really bad. There are a lot of women that really enjoy it, but personally I'm happy down on the ground.
What style has been your best-selling vintage or retro sneaker?
R.H.: My first thought was the Air Force 1. Over my time selling sneakers, this silhouette has gone through a number of different colorways and collabs. Even for the girls, this shoe has been a winner. I particularly remember the 2008 limited-release Air Force 1 High QK Colour Pack and them selling like hotcakes! This is a sneaker that everyone always has room for in their closet and loves to revisit. They're a straight-up classic. The Chuck Taylor is also never-fail sell. The 2013 release of the '70s Chuck was proof of that.
Is there a specific style you've seen that keeps making a comeback?
R.H.: The Nike Huarache. I remember the 2004 rerelease of the sneaker when it did its first "triple black" round and people going crazy for it. They were beautiful. I then remember receiving the stock of the Cream/Sport Blue/Royal Mandarin release in 2007 and thinking how this trainer just keeps getting better. The last two years have seen the shoe come back to the forefront and smash it, probably thanks to the rerelease of the Resin in 2013. I believe this shoe will continue to resurface in the years to come, exciting the next generations of sneakerheads. Of course, I have to mention the takeover Adidas has done with the Stan Smith and Superstar releases. We constantly have girls coming in mentioning how they used to rock these sneakers back in the day and how much they still love the design.
Are there any sneaker collaborations with women that you have loved?
R.H.: When Claw Money did her release with Nike, I think it was the Vandals, this is 2008 or 2009. It was really nice to have women's graphics on a really popular retro silhouette. And they did super-duper well. I think having women involved in the process, even though perhaps they didn't create the brand or anything, is just really, really cool.
B.H.: I really enjoyed all of the advertising and the media around the Solange and Puma collaboration. The shoots were amazing, just the way that it was all constructed, it was really clever. It's good to see more of those types of collaborations around strong women who have got their own style and taste.
Who's your sneakerhead style icon?
R.H.: I was always really impressed by and always wanted to be like Missy Elliott. I think I must have watched Cribs on MTV, and she had three or four rooms dedicated to just her sneaker boxes and I thought that was the craziest, most amazing thing. And every time you saw her out on the red carpet or just photos of her, she was always wearing a brand-new pair of something. She's got amazing style.
This interview has been edited and condensed.