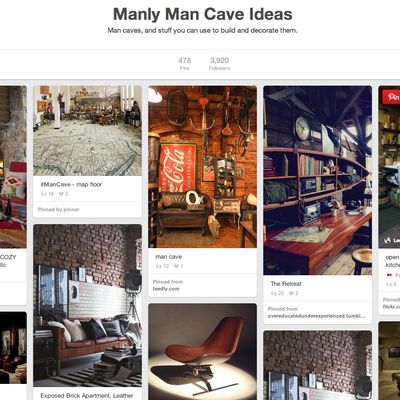 Men on the internet.
Photo: Nick Hardesty/Pinterest
The internet's girlish mood board, Pinterest, was considered the domain of mostly women. Its cursive font seemed to encourage galleries that included unattainable fishtail braids and earnest advice about effortless layering.
These are not typically topics that appeal to most men, or even most women, but there we are. However, Pinterest reports that they have doubled their American male user base in the last year, and male users are outpacing Pinterest growth as a whole.

So what are dudes up to over there? Spying? Considering a pixie cut? Nah. They're up to super manly stuff in a super masculine, dudely way. They've got galleries on galleries of dope man-cave inspo. They're piling up visual information on motorcycles. They're gazing at tutorials on beard maintenance. So don't worry about it, man, gender norms are being totally adhered to.