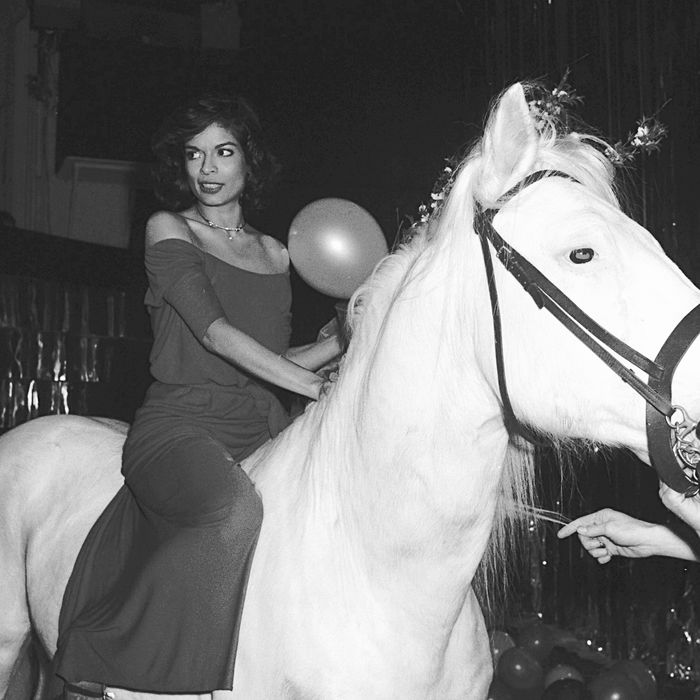 Bianca Jagger and the horse she didn't ride in on.
Photo: New York Daily News Archive
There are certain stories we've been told that we just need to be true. We take comfort in their solid truthiness and accept them as fact. One such tale: In 1977,  Bianca Jagger rode a majestic white horse into her 30th birthday at Studio 54 and it was glamorous. We know this to be true because there is a photo of Jagger, looking fierce, astride said horse, inside said club.
Now Jagger is insisting on setting the record straight in a letter published on the Financial Times this past weekend. Jagger writes:
"It was a beautiful white horse that reminded me of mine, and I made the foolish decision to get on it for a few minutes … No doubt you will agree with me that it is one thing to, on the spur of the moment, to get on a horse in a nightclub, but it is quite another to ride in on one. As an environmentalist and an animal rights defender I find the insinuation that I would ride a horse into a nightclub offensive … I hope that you can understand the difference between 'coming in' on a horse and getting on one."
What next? What else will older generations snatch away from us in an attempt to "set the record straight"? Will we find out Woodstock was actually a corporate music festival sponsored by Sweetgreen? From now on, let's agree: Generations past are only allowed to bring up old stories if they plan on reassuring us about how glorious those moments were, so we may continue to sleep on a bed of lies, dreaming of that time Bianca Jagger rode a horse into Studio 54 and met Santa Claus at the bar for a shot.