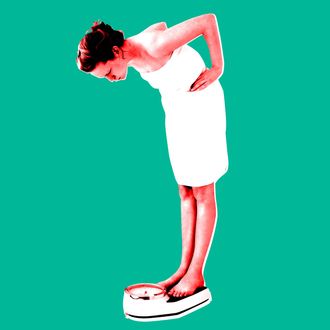 Photo: Morgan David de Lossy/? Corbis. All Rights Reserved.
Americans spend billions every year on commercial weight-loss programs and products, and the amount of choices available has multiplied in recent years, thanks to plans available online or via smartphone apps. And yet few commercial weight-loss programs are actually worth the money, according to the results of a new analysis of the science on the subject, published online this week in Annals of Internal Medicine. Even the ones that do work only result in modest weight loss, reports Kimberly A. Gudzune of Johns Hopkins University, who led the study.
There are literally thousands of studies on the subject, but very few good ones, as Gudzune and her team quickly found when they set out to review the literature. Out of about 4,200 studies, only about three dozen were rigorous enough — meaning they involved randomized trials that lasted at least 12 weeks — to be considered reliable gauges of these programs' effectiveness. But even the best programs showed only a moderate difference compared to nutritional counseling. 
That said, two of the older names in the game came out on top: Jenny Craig and Weight Watchers. After one year, people randomly assigned to Jenny Craig programs lost about 5 percent more weight than people randomly assigned to nutrition counseling (the latter served as the control group in the studies under review). That means that on average, Jenny Craig participants lost at least 15 pounds at 12 months, as compared to control-group participants who lost 1.5 to five pounds. Dieters who did Weight Watchers, on the other hand, lost about 2.6 percent more weight over the course of one year than those assigned to nutrition counseling. Pounds-wise, that means eight pounds lost by the Weight Watchers participants, as compared to the control group's two to four pounds lost. 
Low-calorie diet programs — such as OPTIFAST, Health Management Resources, and Medifast — showed promise at first, with 4 percent more weight loss as compared to the control group after six months, but when these programs were studied for more than six months, that initial success petered out over time. Dieters who used Nutrisystem, which delivers meals to its members, lost 3.8 percent more weight than control groups, but studies on the meal plan stopped at three months, so the longer-term results are unclear. For the rest of the 32 programs Gudzune and her team looked at — including self-directed plans like SlimFast and online programs like eDiets and Lose It! — there simply wasn't enough evidence to confirm much of anything.
Both Jenny Craig and Weight Watchers share some common themes that may have given them an edge over other programs covered in the analysis, Gudzune said. Each program is highly structured, giving dieters a firm plan to follow. But perhaps more important, each comes with the social support necessary to keep dieters honest, either via meetings with peers or regular check-ins with coaches.
But, then again, although Jenny Craig and Weight Watchers worked better than other programs covered in the analysis, the advantages of these programs compared to a control group were only modest. "They seem to do a little better than others, but none of them produce impressive long-term results," said Marion Nestle, a New York University nutritionist and author who wasn't involved with the new review but who evaluated it at Science of Us's request. "Most dieters gain back whatever weight they lost on whatever diet they use," she continued. "Physiology fights weight loss, and successful weight loss requires lifestyle changes that are difficult for most overweight people." (Specifically, lifestyle changes like regular exercise and smaller portion sizes of healthy foods, which are simply hard to maintain over the long-term.)
Commercial weight loss is big business in the U.S.: In 2014, Americans spent an estimated $2.5 billion on such programs, as Gudzune notes in her paper. And yet market analysts report that Weight Watchers in particular is struggling to compete in recent years, with so many popular (and, most important, free) smartphone apps such as MyFitnessPal coming onto the market. (Gudzune said she didn't include such apps because they're still too new and haven't yet been the subject of rigorous, scientific studies, though she hopes to include them if she does another review of the literature down the road.) Millennials, for instance, say they are less likely to use commercial weight loss programs than other age groups, according to one recent survey. 
Whether people choose a commercial weight-loss program, a free app, or attempt to get healthy on their own, it's the simplest advice that still works in the long run. As Nestle said to Science of Us, "eating less, eating healthier, avoiding junk food, and moving more work every time."