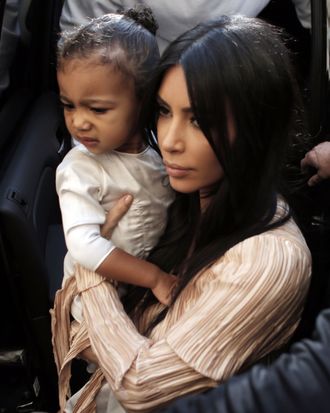 Photo: AHMAD GHARABLI/Getty Images
Let it go down in history that on this, the 13th day of April, in the year 2015 A.D., America's chosen baby, North West, daughter of Kanye West and Kim Kardashian, was baptized.
The ceremony was a simple affair. Mother and father flew the 21-month-old to Jerusalem via private plane, along with aunt Khloé Kardashian and a posse of security guards. The baptism took place at the Cathedral of Sts. James, a 12th-century Armenian church in the Armenian Quarter of Jerusalem.
On the eve of this most holy of days, the child's father, a well-liked musician, performed a free concert in Yerevan, Armenia, which was promptly shut down after the performer jumped into a man-made pond.