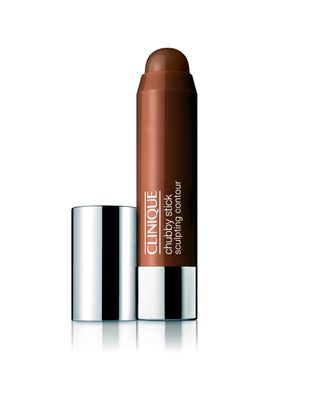 Clinique's Chubby Stick Sculpting Contour.
Photo: Courtesy Photo
Contouring is everywhere — all over Kardashians and our Instagram feeds — but anyone who has tried it knows it's one of the most crazy-making beauty tricks. It's difficult at best and really confusing at worst, which is why Clinique's Chubby Stick Sculpting Contour is a serious game-changer. It's contouring for dummies.
The main draw of the stick is that no matter how aggressively you apply it, the oil-free formula never makes you look like a cartoonishly bronzed zebra. Technically, the sculpting stick is a bronzer, as most professional makeup artists perform contouring with foundations that are two shades darker than the user's complexion.
After a single swipe of the stick along the hollows of my cheeks, forehead, and jawbone, it blends seamlessly with a stipple brush into my foundation to create defined features of Kardashian proportions: perky cheekbones, a narrower forehead, and a softer, less square jaw. It's the ideal complement for a contouring newbie who doesn't want to keep up with the Kardashians, but would rather remain a few toned-down steps behind.
Clinique's Chubby Stick Sculpting Contour, $21 at Sephora.