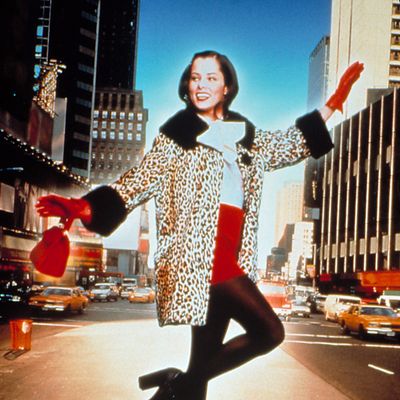 Parker Posey in Party Girl.
Photo: Courtesy Everett Collection
There's a new theme every day on It's Vintage. Read more articles on today's topic: The Eccentric.
Mary, the free-spirited librarian played by Parker Posey in Party Girl, became a blueprint for aspiring eccentrics everywhere with her quirky wardrobe — leopard-print coat, owlish sunglasses, and sequined shorts. We caught up with the actress at a screening of Clouds of Sils Maria, where she explained how her character's look came together.
"The wardrobe designer, Michael Clancy, and his assistant Vicky Bartlett — who I think is still a stylist [Editor's note: She is, and also designs the line VPL] — they pulled a lot of things from their friends, and Todd Oldham loaned us a pair of sequined rhinestone shorts. I wore some of Vicky's clothes. A few things were mine, but mostly they were borrowed from other people. A Jean Paul Gaultier sweater was returned. We all created it, but it's fun to come up with those different looks at that time. It was a '40s kind of movie, so they knew that it would have kind of a '40s, throwback look, which is now kind of '70s, a little dressed up.
"I think I do still have the Vivienne Westwood corseted satin number, which is good for Halloween. I do have a suit that was mine. It was a vintage cream '70s suit that I wore in the library, I remember. Brocade! From the '70s. It looks amazing. [When I do a movie,] I like to bring my own wardrobe or shop for my character."