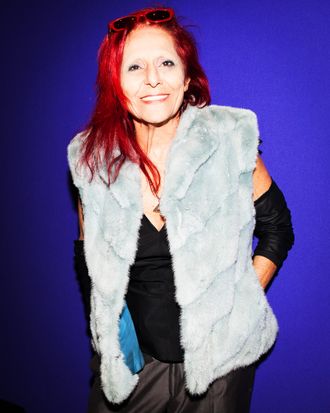 Patricia Field
Photo: Sam Deitch/BFA NYC
There's a new theme every day on It's Vintage. Read more articles on today's topic: The Fashion Editor.

It was about creating an original [persona] based on a broad — very broad — general idea of several fashion editors, who are different, but just sort of this general idea. My main focus was Meryl Streep. I knew, No. 1, that she could play any role, and that's why I was so happy to have the opportunity to work with her. And I also knew that she hadn't played such a role. She's played the most crazy roles— a nun, whatever— and she's brilliant, but at the same time, she's never really put herself out there in that way, and she has so many fans. It was my golden opportunity to present her gorgeous. So I was excited to do it. And of course, I stayed within — I don't want to call them boundaries. I stayed within the framework of a fashion editor. I wasn't dressing a vaudevillian, or a nun, or a whatever. So I stayed within a general framework, but it was tailored to her.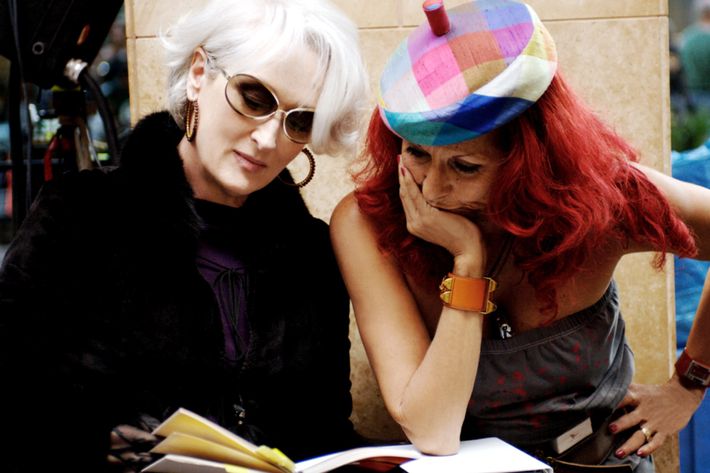 The basis of my costumes was Donna Karan [designs] from the '80s and '90s. Because they were so classic — that's what made Donna Karan. And they were so flattering, and they fit beautifully, and they were timeless. People 20 years later didn't recognize it as Donna Karan, [necessarily]. It wasn't exclusively Donna, but it was a lot.
The idea for Meryl, her hair, the white [pixie], that came from [former Vogue EIC] Grace Mirabella. And it was her idea. And I loved it — give me a white palette, I can do anything. It's a definite statement. So I was all for it. I derive a lot of my standards from the silver screen of the '30s and '40s. Not the looks, necessarily, but the standards.
[Director] David Frankel kept writing these montages after the script was finished. He would come in and he was like, "I just wrote a montage: She comes into the office and she throws her coat down, over and over." I'm like, "You just wrote me 40 new costumes, thank you." But it worked.