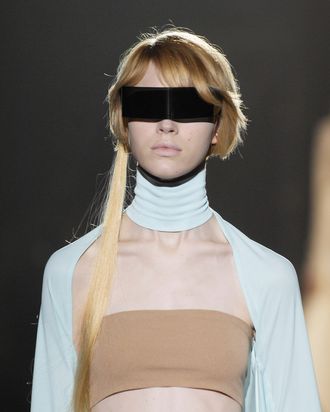 A look from Maison Martin Margiela spring 2008.
Photo: Karl Prouse/Catwalking/Getty Images
There's a new theme every day on It's Vintage. Read more articles on today's topic: The Belgian Invasion.

Amid the excess of the '80s, fashion had become an opulent spectacle propelling designers to legendary heights of acclaim. From Thierry Mugler to Jean Paul Gaultier to Ungaro and Christian Lacroix, it was a time of big clothes, big shows, and big personalities. But after the stock-market crash in 1987, the mood began to change. Subtlety and discretion started coming back into vogue. The conspicuous glamour of the '80s was losing ground to a burgeoning intellectual appeal, and the antidote to the decade's excess came in the form of a young Belgian phenom: Martin Margiela. He would go on to deconstruct fashion's psyche as readily as he could dissect and reconstruct a dress. And rather than seek the limelight, anonymity would be the name of his game as he reset fashion's rules in the postmodern climate of the 1990s and beyond.
The myth of Margiela begins in Antwerp. The early '80s saw a new generation of designers emerging from Antwerp's Royal Academy of Fine Arts; soon, they would firmly place the city on the international fashion map. The '70s had already seen the arrival of the Italians, with designers like Walter Albini, Giorgio Armani, and Gianni Versace proving that fashion leadership was no longer the sole domain of the French. The decade also saw the manifestation of Vivienne Westwood's punk aesthetic. As political as it was sartorial, punk challenged the bourgeois status quo of many of society's conventions, fashion perhaps being first and foremost. By the late '70s it was an internationally recognized subculture, surely on the radar of a young Margiela, who graduated fashion school in 1980. The following year would mark total upheaval when Rei Kawakubo and Yohji Yamamoto began showing in Paris. While the designers had different outlooks, they both opposed nearly every Western idea of beauty and clothing design. Kawakubo's clothes, appearing bleak and tattered, went against everything the fashion Establishment had stood for. Margiela and his Belgian colleagues watched as Paris was thrown into chaos and learned an invaluable lesson: Alternatives could be had.
In 1984, Margiela would officially join the studio of Jean Paul Gaultier as the enfant terrible's assistant. Gaultier was the wunderkind talent of Paris at the time, and his provocative plays on gender and street culture were stealing the scene. Margiela's critical thinking and keen mind would be invaluable to Gaultier, emboldening his high-energy runway antics with a subversive spirit. As Gaultier's right hand, Margiela would get an intimate experience with the cult of personality and how it could, or couldn't, define a designer's success.
Leaving Gaultier in 1987, perhaps spurred by the success of his former schoolmates, now called "The Antwerp Six" (they included Ann Demeulemeester and Dries Van Noten), Margiela went out on his own, debuting his first collection in Paris in 1988. His early shows were perhaps more like art happenings than the thematic and operatic productions '80s Paris fashion is known for. An infamous show in 1989, staged on a playground in a neighborhood on the outskirts of Paris, saw the local children, unrehearsed, skipping and interacting with the models. A collection in 1992 included a brass band slowly marching down the runway with the models weaving in-between them as they played. Margiela's shows were radically personal and humanistic expressions about clothes when fashion otherwise seemed estranged from everyday realities.
The designer quickly defined a deconstructed look: garments sewn inside out, missing sleeves, raw unfinished hems — all underscored with impeccable tailoring and craftsmanship. Vaguely Dadaist, as if Marcel Duchamp were reincarnated as a fashion designer, Margiela questioned every tenet of fashion and luxury. His most daring feat? The total concealment of his identity.
As the head of his own house, Margiela refused to have his picture taken. Giving a rare interview, he answered in the plural of "we," referring to his collections as the work of a collective. Even his labels were originally blank — recognizable only to those with consummate knowledge of the niche designer — the telltale mark of a Margiela garment being the four white tacks showing on the outside of the center back. His store, an unmarked space in Paris, its interior masked totally in white, defied the rules of retail and commerce. Everyone in his atelier, down to the designer himself, dressed anonymously in white lab coats. In some of his look books and presentations, models wore black tape over their eyes, their identities obscured (a concept that would be turned into sunglasses, allowing even the consumer to adopt a Margielan mask of their own). As much as all this  rendered him invisible it made his house stand out as anti-fashion, a burgeoning aesthetic manifested in everything from Marc Jacobs's grunge collection for Perry Ellis to Miuccia Prada's nylon handbags to Helmut Lang's hypermodern streetwear. Postmodernism, alongside its conceptual cousin minimalism, reigned supreme in the '90s.
The allure of Margiela's anonymity would take on special meaning in 1997, when Hermès's Jean-Louis Dumas hired the designer to oversee the firm's women's ready-to-wear, a decision that was utterly contrary to fashion business trends of the time. By contrast, Bernard Arnault had gone about revamping LVMH's arsenal of aging French houses by installing attention-getting showmen at their helms: Marc Jacobs at Louis Vuitton, John Galliano at Dior, Alexander McQueen at Givenchy and Michael Kors at Céline. It marked the beginning of a new age of celebrity designers and logomania. Dumas's decision to hire Margiela was then considered an extremely risky move, but has since proved a stroke of genius. Margiela's shows for Hermès were whispers in a sea of shouts, quiet explorations of  luxury that focused on classic clothes with subtle but masterful twists and enhanced the house's reputation as a purveyor of timeless quality and discerning taste.
The cult of Margiela would be taken to task in 2002 when the designer sold his house to Only the Brave. Loyalists asked, what would become of the anti-commercial fashion house now that it was in the hands of businessmen who also managed Diesel jeans? The evolution of the Maison Martin Margiela would unfold to be one of fashion marketing's greatest case studies. In many ways, Margiela's years of misdirection and elusiveness would be a boon to the business. As aging designers retired or passed away, here was a house immune to the legacy issues most fashion brands suffered when it came to finding a successor and keeping the house's aura alive. The Maison could theoretically continue on as it always did: an effort of a collective whose founder was, as far as the press could tell, as engaged or disengaged as he had ever been. But by 2009, rumors that Margiela had long since departed the house began to undermine the brand's appeal. OTB's Renzo Rosso finally admitted that Margiela had not been designing for some time, and news of his departure cast a shadow over the cult label. Margiela's efforts to keep his and his house's identity separate appeared in vain as editors and consumers perceived Margiela's departure as a lack of vision and direction. In 2012, the Maison partnered with H&M for a "greatest hits" collection pulled from the archives. Theoretically, it was a move worthy of the house's reputation, an attempt to turn the rules upside down and bring out its most cherished relics for the masses — but once again, it drew cries of watering-down from some corners.
Two years later, when it was announced that disgraced designer John Galliano would be put in charge as creative director, the appointment threw most of the fashion industry for a loop. But what could be more fitting for a brand known for eschewing the status quo to embrace the showman turned pariah? Galliano has said that he took the job with Martin's blessing, urged by the Maison's founder to "make it your own." Perhaps the truest expression of Margiela's legacy comes not from his successor, who's avowedly putting his own stamp on the house, but from the clutch of Margiela alumni now making waves in Paris: Nadège Vanhee-Cybulski, who is running the show at Hermès, and Vetements' Demna Gvasalia. They are proof that the designer's delicate ethos remains intact.