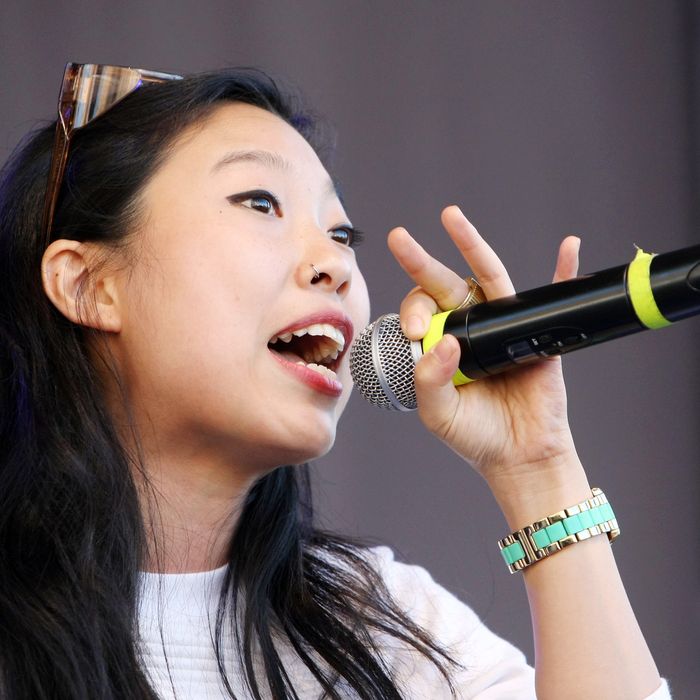 Awkwafina.
Photo: David Buchan/Getty Images
The role of New York City's honorary ambassador was claimed recently by a cheery ingénue with an affinity for matching sets. Taylor Swift welcomes imports with pastel-soft gentility, unaware that there is another 20-something singer, in some dingy basement bar far away from Soho, gunning for her job. Awkwafina arrives in neon, with granny glasses and little kids' tee shirts, rapping about terrible commutes and sidewalk freaks. As unofficial city welcome wagon, she won't lie to you.
Today, Nora Lum's glasses are off. Her signature oversize glasses make her recognizable as her rapper/comedian nom de plume, Awkwafina. Awkwafina perches confidently in the intersection of rap and comedy, appearing as a correspondent on MTV's Girl Code as well the host of fun impromptu bodega-talk-show Tawk. Now, volunteering herself as a young docent of seedy New York, she has written a guidebook: AWKWAFINA'S NYC.
At 5:00 p.m. on Tuesday, we are completing one of her recommended tours, of the two blocks of Manhattan's Koreatown, which has managed to take us four hours. We are sitting below fishnets haphazardly decorated with wine corks in a second-floor restaurant bar, as Nora spoons a watermelon soju drink into tiny plastic bowls for us. Our laughter has already driven away one table of girls, and threatens to displace another.
Adventures from AWKWAFINA'S NYC all tend toward buffoonery. It's not so much a tourist's guidebook as a bored-on-a-Saturday book. It promises highly energetic, yet cynical tours of places like the New Old Greenpoint and Brighton Beach. She also includes helpful lists, like "10 Places to Pee" (did you know you can pee in courthouses? you can!).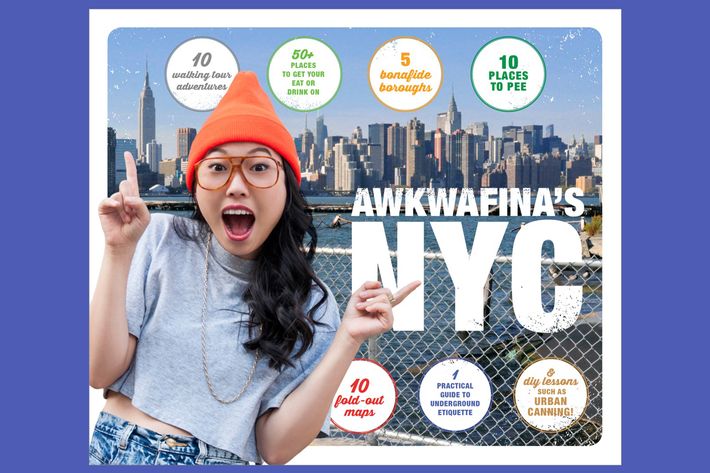 Her tour guide integrates some allusions to Nora's childhood, which featured Queens and Manhattan as her wild impromptu playgrounds. She says she terrorized the city with distinctive kid "sleepover-hyper" energy: "When I was 15, I talked to Liam Neeson, because I was the only one of my friends ballsy enough to engage him. I was always that kid. When I got ice cream, I put it in my eye. When I got my license, I got pulled over so many times for playing Les Mis too loud." She calmed down, she says, at college upstate. "I learned how to be an adult and repressed that DGAF attitude," she says. "Awkwafina is the person who never aged out of that."
What's most striking about Awkwafina is not that she doesn't get embarrassed; it's that she doesn't care if she's embarrassed. She usually takes her work to places "where it can get humiliating or off-putting." This willingness for mortification makes her stand out among other female rappers.
Nora seems to have an affection for the gross. We talk about loving Cronenberg movies, but not being able to handle quite how disturbing they are. In high school, Nora worked in a video-rental store that fostered decrepit music journalists, which she credits with giving her an education in New York weirdos. She pays attention to the dirty-ugly, subway-sludge side of the city, and gives these skeevy elements a good deal of attention in her guidebook.
She likes to anthropomorphize her surroundings. Flushing Meadows, the park she grew up near, is the "Jan Brady of Queens." She warns of New York City wildlife, particularly the swans. "These swans DO NOT GIVE A FUCK," she writes. "If they were a celebrity, they would look like a mixture of Courtney Love, Kate Gosselin, and Ike Turner." These city swans, guarding Modelo cans, floating around cigarette butts: "They are gangster," she says. "They've seen some shit." We exchange tips about enticing squirrels; she swears a slight clicking noise and rustling your fingers works well. Sometimes, you want to entice the weirdness toward you. But sometimes — she recalls accidentally petting a possum she thought was a cat — you regret getting so familiar with such characters.
She is proud she notices these things, and found herself suffering among them for her New York life. "Let's take Taylor Swift," she says, doling out more sweet, pink watermelon goop. "She lives in a huge beautiful apartment, she gets limo-ed everywhere. She's not seeing what it means to live in New York. She's not seeing someone masturbating to her on the subway," she continues. "To come to JFK and see her face as opposed to a homeless person shitting and shouting is not accurate." What else might be appropriate? Nora suggests "a malnourished Yorkie turd. A stray disgusting shoe. That's New York. But," she  sighs with disappointment, "they're not going to have a homeless person on a poster representing New York."
So let Taylor Swift give you the walking tour of the chic gyms of Soho; let Awkwafina take you on the Staten Island subway, affectionately referred to as a "bad mama jama." Let her teach you how to entice city squirrels.