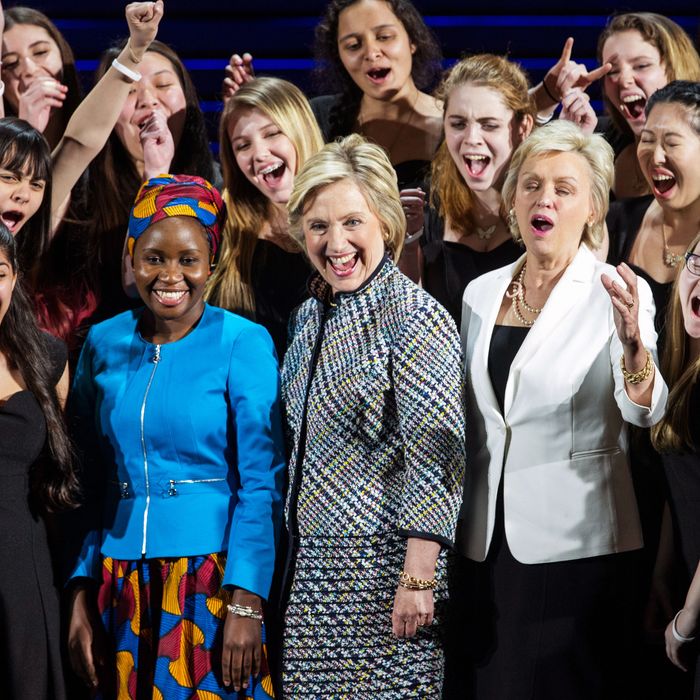 At the Women in the World conference.
Photo: Andrew Burton/Getty Images
Today, Women in the World hosted a panel on the rape crises across college campuses. It was one of the most hotly anticipated panels, second to "Tavi's Already Amazing Life," a conversation between Tavi Gevinson and Janet Mock. After a croissant break, attendees filed back inside the purple-lit auditorium to hear from Senator Kirsten Gillibrand, Annie E. Clark, the co-founder of End Rape On Campus, and Jon Krakauer, author of the newly released Missoula: Rape and the Justice System in a College Town. Mika Brzezinski, MSNBC anchor, moderated.
With 108 American colleges under federal investigation for mishandling rape cases and 90 percent of rapists getting away with their crimes, the problem is clear. But preventing rapes and getting justice for rape survivors is more complicated. "Campuses are doing a horrible job," Senator Gillibrand said. She cited bad press and poor training as central reasons why so many colleges have failed rape survivors and has sponsored a bill with bipartisan support that'll take colleges to task for failing to protect students. The Campus Accountability and Safety Act has a three-pronged approach. Online surveys will allow students across the country to report on how their colleges are handling (and mishandling) rape cases, funding for training will make sure that students who do come forward are properly treated, and an increase in fines (up to one percent of the college's budget) could mean that penalties could be in the millions.
Both Krakauer and Clark stressed the importance of giving students the option to pursue criminal complaints or deal with the case through the university. "Universities have to be wiling to deal with rape on campus," Krakauer said after noting how slowly the criminal justice system works and how frequently untrained investigators retraumatize victims. After pointing out the fact that more students who pursue justice through the legal system are more likely to have PTSD than those who don't, Clark stressed the essential role college administrators can play. "A lot of students just want to be students again, and the police are not going to remove your rapist from your English class or make sure you're not encountering him in the dining hall," she said.
When the relationship between binge-drinking and sexual assault on college campuses came up, Krakauer called that a "distraction" that ends up feeding into a culture of victim-blaming.
At one point, Brzezinski asked, "What do we tell our daughters who are going to college?" Clark quickly piped up. "I want to flip the frame, and ask 'What should we tell our sons?'" she said, before adding, "Most men aren't rapists, but most rapists are men." Clark suggested that conversations about consent and rape shouldn't start at college orientation week, but much earlier.
Senator Gillibrand spoke about the inspiration she found in the young women leading the movement to fight the rape crisis on college campuses, to raucous applause. When discussing why it's so hard to break the stigma of the stranger-rapist who attacks women in a back alley at knifepoint, Clark had a salient answer. "We just don't want to believe that the people sitting next to us in chemistry class could commit this crime."