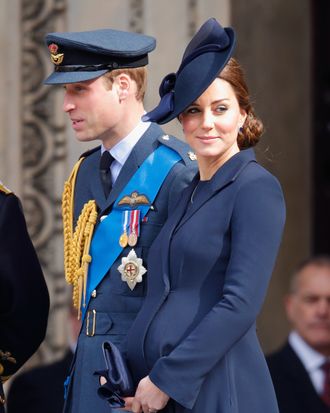 Kate Middleton, with child.
Photo: Max Mumby/Indigo/Getty Images
With the hope this news neither shocks nor jolts you, let us issue a quick reminder to the general public: Kate Middleton's elegant maternity coats contain a baby inside of them.
Oh, it's true. It's also not interesting. With the birth of Royal Baby George in 2013, the world peaked with frenzy about the birth of a kid not related to them. Two years later, a second royal baby approaches a jaded, inattentive world. No one can be bothered to drum up the hype.
You're not interested, so let's keep it brief. Here's a very short primer on Royal Baby, the Sequel:
Activities of the Parents: Kate Middleton started her maternity leave on Monday. Prince William, a father with a new job, is waxing poetic. Here's what he said: "They say that number one is a life changer and that number two is a game changer." So he's reading motivational Pinterest boards to prepare.

Activities of George, Future Older Brother: Mostly toddling; has certainly not given adequate thought to how his life will change.

Gender:  The baby's gender remains unknown. Gossip columnists have been conducting Rorshach-like readings of Kate Middleton's pink outerwear and determined that her womb contains a girl. It must be all those female vibes oozing right out of the womb into some purchased fabric. That's how everything works in the world for sure.

Names: If this tiny child is a girl, people are betting on Alice, as a name. Alice means of noble kind, so again, everyone is thinking outside of the womb today. If it's a tiny dude, people bet that he will be named Arthur. He wasn't a king or anything, was he? He didn't do any swordplay business, did he? No one remembers.

Potential Birth Date: This baby might arrive early. No one is watching that closely, so this babe doesn't have to stick to any particular schedule. A "royalist" has estimated that May 4 is the expected date. Foreign media outlets have been allowed to set up cameras five days earlier (the permissible date was moved from April 20 to April 15).

Temperature of Public Interest: Lukewarm.

Notes to the Baby: Welcome, whenever you arrive! Your parents and immediate family are certainly entirely interested in you, but just as it is with every other baby on the Earth, only the inner circle actually cares about the details. Everyone else is just being polite.