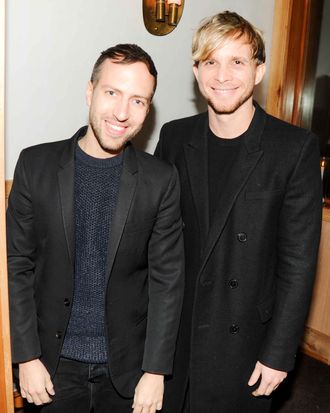 Peter Pilotto and Christopher de Vos
Photo: Neil Rasmus/BFAnyc.com
Peter Pilotto and Christopher de Vos of Peter Pilotto have built one of London's most successful womenswear labels, scooping up some of fashion's top honors with their eye-catching prints and an impressive celebrity clientele (MObama among them). Earlier this week, they announced that London-based investment firm MH Luxe and Megha Mittal have taken a minority stake in their company. (Up until this point, the seven-year-old brand had been entirely self-funded.) The Cut sat down with the duo during their recent visit to NYC to talk prints, Instagram, and what's next for the company.
Congrats on the big news! What does this investment mean for the future of Peter Pilotto in terms of design?
Peter Pilotto: I think it was evident in our last show. We love the business side; it's important to learn about, but the investment (which happened a few days before Christmas) allowed us to focus more on the collection and push it to the next level. To elevate the craft beyond the print was a big motivation that we have set as our goal. The print is a really important aspect for us, but all these new developments are such a great thing. Knitwear is a focus for us, and just working with different materials.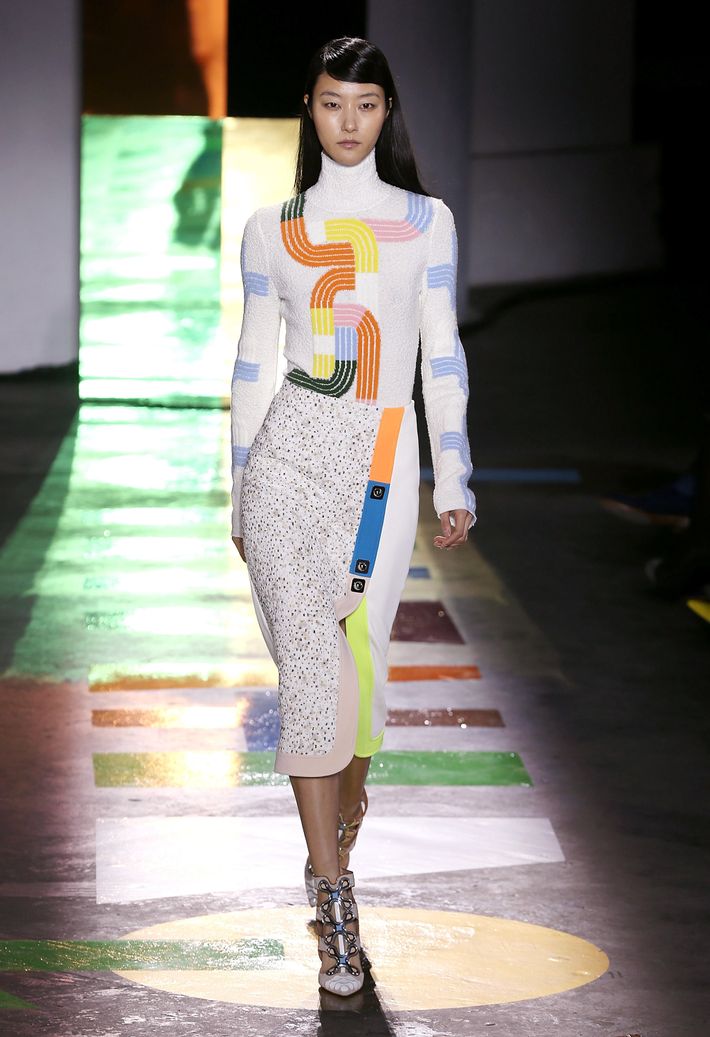 What does it mean for the brand as a whole?
Christopher de Vos: Peter Pilotto is based in the U.K., but we are a global brand; we sell to over 50 countries around the world. The thing with the investment is we can now focus on the needs of the different markets. The world is so global, but each country has different needs. We want to have more of a presence in the U.S. especially.
As you mentioned, your digital prints are a big part of Peter Pilotto. How do you want to evolve your prints?
Pilotto: We started to do digital prints when really no one else was doing them. We were fascinated by the technique; we wanted to push the boundaries of print and how to make it relevant, and go away from just photographic things. We wanted to make something that is visually impactful from afar, but also up close something that has the quality of embroidery that a screen print would have.
You're launching your e-commerce site in the fall, and you've been amping up your social media. What do you think of fashion's fascination with social media these days?
Pilotto: Talking about Instagram, we are in so much more of a photographic era than ever before. Knowing how to deal with a photo is much more important — not in a magazine, but in a private way. It's interesting and it's kind of what makes design different in our era. Things are seen in a different light. Ever since the start, we would always check how our things look through a lens, during the fittings for example, and in other eras people used a mirror. I think it's about what is convenient and there for you. I think it has probably always been like that in terms of how fashion evolves with history — how did things change when electric light was invented?
De Vos: We don't design for Instagram. It might change, but we are not there yet.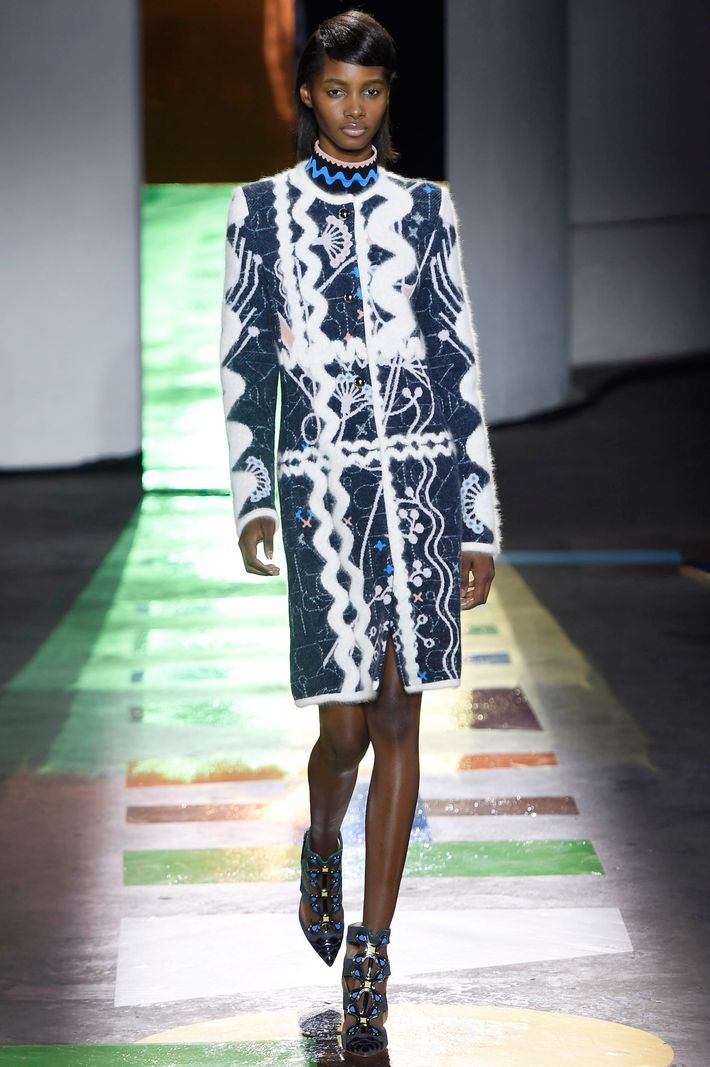 What is your take on the current state of London fashion right now?
Pilotto: It is an exciting moment because we (and our peers) benefited from being grouped in as a whole. Now it's cool because we are sort of going our different ways and carving our own path. What are the next steps for all of us?
De Vos: We can't eternally be pigeonholed as young designers forever. That's part of what we are going through right now. At some point, you have to grow up, right? We have all by now graduated to the next level. The great thing about London is we are all in the same boat, in a way.
People often get stuck being labeled as a "young designer" forever it seems …
De Vos: Hopefully people will keep using it until we are like 50. [Laughs.] I went into a store the other day and they asked me if I am a design student, and I was like, "Yes! I am taking a foundation course." It was hilarious.