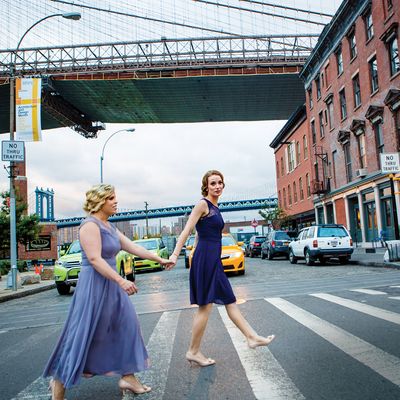 Newlyweds Amanda Jenkins and Sheri Bourke.
Photo: Farnaz K Studio
"New York is our favorite place to visit, and since same-sex marriage isn't legal back home in Australia, it was the only place we could have imagined getting married," says Amanda Jenkins, a 30-year-old physical therapist who wed Sheri Bourke, a 38-year-old pediatric nurse, in October. "The time difference made it tricky to speak to anyone on the phone, so we picked vendors based on how nice their websites looked and organized everything via email," she recalls. Thirty friends and family from abroad watched the two wed at the Ladies Pavilion in Central Park ("The name couldn't have been more suitable"), then relocated under the Brooklyn Bridge, where Amanda had proposed the year before, to the River Café. Guests ate rack of lamb and danced to tunes performed by the jazz ensemble Carte Blanche. The group spent the next week celebrating, seeing The Book of Mormon, and, recalls Sheri, "going to as many restaurants as we could squeeze in."
The Details:
Rings: Georg Jensen
Hair: Brides by Benedetti
Makeup: Stacie Ford Weddings
Flowers: Van Vliet & Trap
Celebrant: Tulis McCall
Photographs by: Farnaz K Studio
*This article appears in the Summer 2015 issue of New York Weddings.