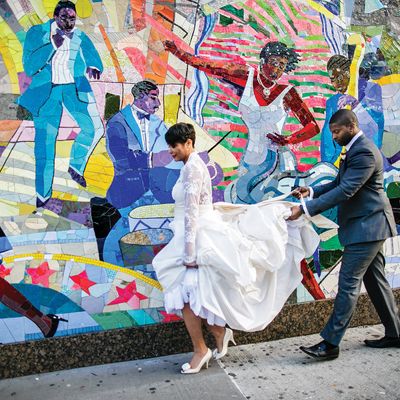 Newlyweds Danielle Robinson and Lenny Bell.
Photo: Petronella
Danielle Robinson and Lenny Bell's Christmastime nuptials were a decade in the making. "We went on a few dates in 2002. I thought, This man is going to make an amazing husband someday, but I wasn't ready to settle down," recalls Danielle, a 37-year-old advertising executive. The two stayed in touch and reconnected at a friend's birthday party in 2012. "We picked up right where we left off, and this time I was ready," says Danielle. In September 2014, Lenny, a 35-year-old finance executive, proposed as Danielle crossed the finish line of the Bronx 10-Mile race. A few weeks later, they learned they were expecting their first child. "I didn't want to plan a huge wedding while pregnant, so we decided to keep it small. If you were on the guest list, you had either birthed us or had known us since birth," she says. They opted for an eight-person wedding at Red Rooster in Harlem. The ceremony and dinner took place in a private room on the lower level of the restaurant, where everyone feasted on black-kale salad, three-pepper steak, and red-velvet cake. "We always knew we wanted a small ­wedding," Danielle says. "We definitely proved that less is more."
The Details:
Officiant: Debra Sisco
Flowers: Makini Regal Designs
Dress: Michelle New York
Planner: Pop! by Yaz
Makeup: Lash to Lens
Hair: Juliet Fisher
Photographs by: Petronella
*This article appears in the Summer 2015 issue of New York Weddings.