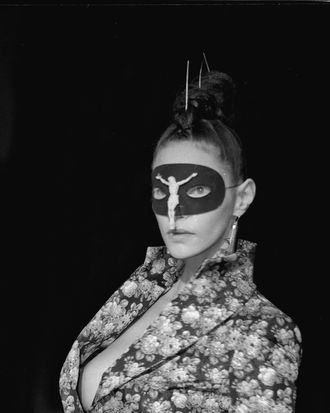 A masked look from McQueen's fall 1996 show.
Photo: Catherine McGrann/Hulton Archive/Getty Images
There's a new theme every day on It's Vintage. Read more articles on today's topic: McQueen's Early Collections.

On March 1, 1996, almost two decades ago, Alexander McQueen presented the Dante collection at the dilapidated Christ Church in East London. The show was dedicated to his close friend Isabella Blow; models walked a crucifix-shaped runway to a soundtrack of organ music and gunfire.
Dante was a commentary on war and religion. A few garments featured photographic prints from the Vietnam War, and one model wore a mask depicting Christ on the cross. Alongside McQueen's clothes were striking accessories designed by Simon Costin, Shaun Leane, and Philip Treacy, from antler headdresses to crowns of metal thorns. The collection is now considered one of the milestones of McQueen's career — a key moment in his transition from a young British designer into an internationally recognized household name. The Cut spoke to four people who were there to find out what they remember from that day.
Philip Treacy, milliner
"Dante was the show that made him, actually. The thing is, everybody loves Alexander now, but they didn't at the beginning. And when he did that show, suddenly people could see his potential, because it was beautifully done. All that Victorian influence came from Isabella. Victoriana was her, and lots of pieces in that show were from her wardrobe. Isabella operated in a very unusual way, because she just loved certain things, and if she did, she'd call you about it a hundred times a day. And obviously she used to do the same thing to him, because eventually it would appear. I would see clothes coming down the runway, and think, I know that outfit. It would have come from her.
"Dante was very accomplished. Alexander had all these tough women around him. They weren't really tough — they were very nice girls — but they were strong. I remember they were wearing conservative-ish skirts, but he'd made them in a certain way that they looked a bit naughty. He had a very particular take on women, and he developed a whole style for models that we hadn't seen before. I remember he wanted those horns for Felix [Elisabetta Forma], and I couldn't get them to stay to her head. She made it look like it was easy.
"I remember Isabella incessantly clapping, because she wanted everybody to love it. She used to invite people to his shows — she used to make people go to his shows — and then she would come and see me afterward and she'd be so disappointed. She'd say, 'That person said that maybe Alexander should make costumes. Costumes?' They didn't get it. People would love to pick holes in things, but Isabella was his defender. It's easy for everybody to love him now, but she was cheerleading him for years and years and years."
Susannah Frankel, fashion editor
"First of all, I remember it being insane at the entrance, and there just being hundreds of people — not necessarily just fashion journalists and buyers, but Lee's friends, and students … I hadn't really experienced that before. I remember that he put a skeleton sitting front-row next to Suzy Menkes, which was hilarious. I think it was the first show when he really thought about art-directing the space, actually, and it was in this church that everybody assumed must be deconsecrated, because of what he did there. We found out later that it wasn't. There was quite a lot of nudity, and it was very full-on about sex, as with all his early shows.
"I remember the clothes quite well, because we shot them for The Guardian. And there are two things I remember about them: One is that however wild the presentation, and however dramatic the art direction, the clothes themselves were incredibly beautifully made, using hardly any money. But the other thing I remember was how it made everything else seem a bit twee by comparison. There wasn't much happening in London anyway — Vivienne [Westwood] and John [Galliano] had gone to Paris. There was Hussein [Chalayan], who was a notable and amazing exception, but Lee's woman was just so fierce that she made everybody else seem fey. I remember the antlers and the corsets, and the lilac silk … but mainly I just remember them really marching, and me thinking, They are really scary, and I wish I could be like that.
"Lee loved Don McCullin, and he said often that he wanted to be a photojournalist. Dante was about war and religion — so he took Don McCullin's Vietnam pictures from a book, and Simon Ungless turned them into a print for him. So amidst everything else, there were these amazingly haunting and powerful war images printed on the clothes. Don McCullin's agent went completely beserk about it. All of those pieces, bar one T-shirt, were destroyed."
Shaun Leane, jewelry designer
"Dante was one of the first shows where I was making multiple pieces of jewelry, so there was an element of apprehension, because I wanted it all to look good. When you worked with Lee, you wanted to make sure you created everything the best, and that it was received the best. I actually sat and watched the show, rather than working backstage, which was unusual. Lee wanted me to watch it — I think because he knew it was going to be a fashion moment, to be honest. Walking in, first of all, there were just candles everywhere. The ambience was quite overwhelming — there was a real air of mystery and anticipation. And then the show began and it was just detail after detail, look after look, accessory after accessory — it was quite breathtaking, because there were so many different elements.
"I remember when Honor Fraser walked down for the finale in the lavender beaded corset. Mr. Pearl created that piece with Lee. The music was just so powerful, and the way that she moved — it was so graceful. There was humor there, there was macabre, there was beauty, there was romance — there were so many emotions going on that when we left, we were quite moved. We all went for a drink afterward and we were all in awe. It was as if we'd just witnessed something really important. I was speechless."
Kent Baker, photographer of Inferno: Alexander McQueen
"I was backstage for pretty much the whole event. Christ Church was quite run-down at the time — it was before they spent money doing it up. At nighttime it was basically a doss hostel [a flophouse], on the lower level, which is where all the prepping area was for hair and makeup.
"Lee had read that there was a devil-worship aspect to Nicholas Hawksmoor, who built the church. He was fascinated by that, and he did quite a lot to pump up the whole mystery of it with the girls and the team, wandering around going, 'Oh, I'm getting a weird feeling in here,' or pointing out cold spots in the rooms. Lee was inspired by the darker side of creativity, and he was quite excited by the idea of holding the show there — it ticked a lot of his boxes.
"Of course that rubs off on everybody. You've got to remember that the models worked really hard for probably a month, literally finishing one show and going across town and straight into prep for another — so there's always going to be an element of 'We've been here before.' To get models excited is not the easiest thing, but I think his show was so different that the atmosphere backstage was kind of electric."


These responses have been edited and condensed.