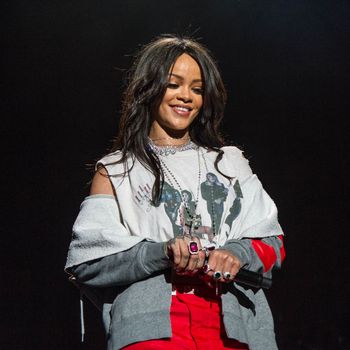 Rihanna has all the munchies.
Photo: Amy Harris/Corbis
Here's how to attack a munchie run like a DGAF goddess, according to a video of Rihanna that surfaced today.
Wander the aisles of Duane Reade in micro-jorts, a long, brightly colored jacket, and a bra top. Assemble only the most delicious pile of snacks, making sure they are diverse in flavor profile — i.e., Apple Jacks (sweet), Cheetos (savory), Cheddar Pringles (questionable). Consider Spam. Do not buy spam. Bring a friend who is as fantastic-looking as you are (e.g., Rihanna's friend who is caught strutting around in black-and-white-striped pants like a sexy Beetlejuice on a runway). Be Rihanna.
May this video act as an instructional text for all those who have been or ever will be caught in a bodega in sweats and a dirty top knot, counting quarters to buy a box of Newman's Own Lite Butter Microwave Popcorn and a Chobani.