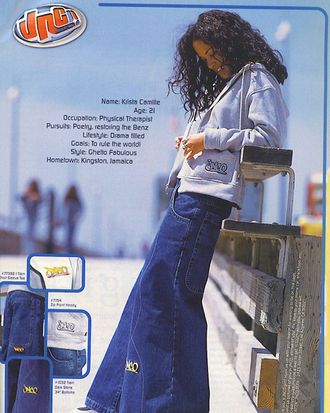 There's a new theme every day on It's Vintage. Read more articles on today's topic: Rave Fashion.
In February, the internet greeted news of JNCO's comeback with a wave of nostalgia. A video showing today's teens trying on JNCOs also quickly went viral, with one millennial doubter calling them "so unnecessary." In other corners, the put-upon pants were called the "scourge of the '90s," while others simply asked, "Why the hell did we ever wear JNCO jeans?"
The truth is that plenty of people wore them, thanks in large part to the raver-influenced fashion moment of the times. In remembrance of when we used to wear jeans with butt pockets bigger than our legs, here is a brief history of the much-misunderstood JNCO.
1. JNCO (which stands for Journey of the Chosen Ones) begins its chosen journey. Two brothers named Jacques Yaakov Revah and Haim Milo Revah found the brand in 1985. Their stated mission: "Challenge conventionalism. Explore the unfamiliar. Honor individuality." They carry out these important orders by creating wide-leg pants with diameters of up to 35 inches. Haim tells the Los Angeles Times that he created wide-legged denim inspired by the street looks he saw on Latinos living in East Los Angeles at the time.
2. Cute skater boys jump on the bandwagon. As the brand grows in popularity, JNCO hires graffiti artists to paint JNCO-themed murals outside popular teenage hangout spots. One graffiti artist known as Nuke designs the label's crown logo. The jeans have names like Mammoth and Crime Stealer and are often tagged with graffiti appliqués on the back pockets.
3. JNCOs draw raves — and ravers. Teen retailer Merry-Go-Round begins carrying the brand. It quickly becomes popular among teens who want to rebel by not wearing super-square five-pocket jeans. JNCOs also become associated with raver fashion for men and women, who like how the jeans pair with pacifiers, plastic rainbow beads, and baby tees. (Presumably, JNCOs also look great when the wearers are showing off their sweet, sweet dance moves.)
4. Moms everywhere start telling their kids, "You look ridiculous in those giant jeans." JNCO releases a style with diameters of up to 50 inches. The company also publishes a tie-in comic book, where the hero's superpower is apparently being able to complete feats of strength and agility while wearing huge pants.
5. Schools ban JNCOs because students actually do trip on their jeans. In 1998, the Los Angeles Times reports that Orange County schools are banning wide-leg JNCO-like styles, deeming them potentially "gang-related" items of clothing. The paper noted, "Most sold are a mere 33 to 40 inches, still plenty of yardage to hide feet and, as some school officials fear, weapons."
6. The jeans are still big. It's the profits that get small. In 1999, the company's sales sink to half of the previous year's.
7.  JNCO is deemed "too uncool" for Hot Topic. In 2000, Cindy Levitt, a merchandise manager for Hot Topic, tells the Los Angeles Times (which was clearly all over this narrative arc). "You still see JNCO at raves," she said. "But it's a little uncool for our customer. It's at too many doors in the mall."
8. By 2003, the founders have wound down the business, presumably to the relief of anxious moms everywhere.
9.  Jennifer Love Hewitt too tries to revive the JNCOs wide-leg trend. She fails.
10. An internet petition to bring back the JNCO is created. Alas, it only gets nine supporters.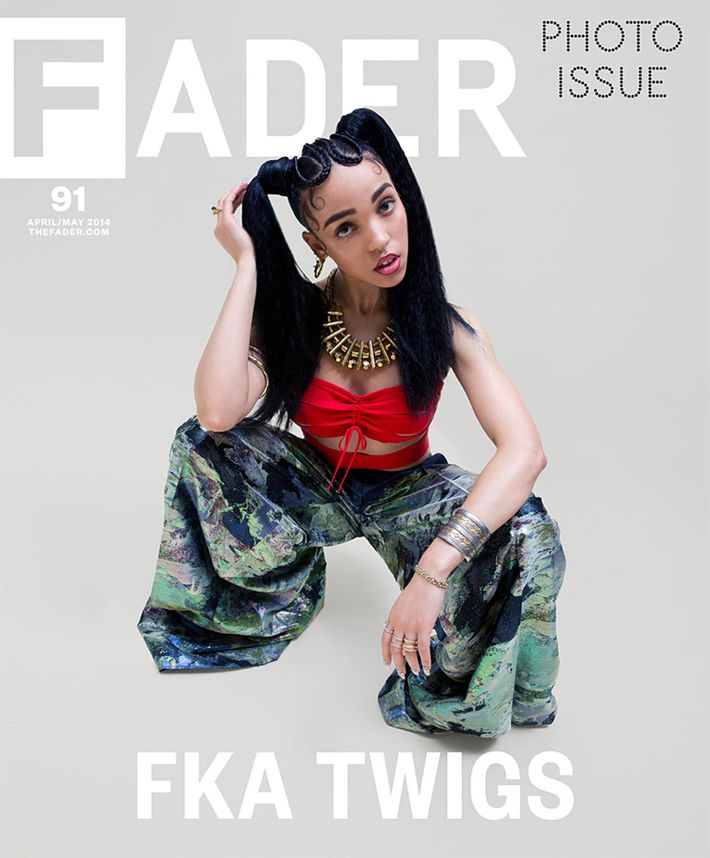 11. FKA Twigs poses on the cover of Fader wearing JNCO-like jeans. She continues to wear the style while performing.
12. Rihanna wears a mega-wide-leg pair of jeans. In November, she rocks — as only Rih can — a pair of frayed-hem jeans from Marques' Almeida, the '90s-loving British design duo who were nominated for an Emerging Talent Award at the British Fashion Awards in 2013. 
13. Perhaps as a result of the Rihanna endorsement, JNCO announces its rebirth. Thanks to a Chinese investor, they're baaaaccck. Nouveau-ravers everywhere, rejoice.