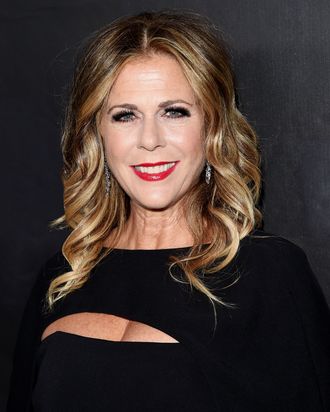 Rita Wilson.
Photo: Jason Merritt/Getty Images
In a statement to People, Rita Wilson revealed today that she was recently diagnosed with breast cancer and has had a double mastectomy and reconstructive surgery. After a diagnosis of invasive lobular carcinoma, the actress underwent the procedure last week. "I am recovering and most importantly, expected to make a full recovery," she said. "Why? Because I caught this early, have excellent doctors and because I got a second opinion."
Wilson, who noted that two of her previous biopsies did not show evidence of cancer, stressed the importance of seeking multiple medical opinions. "You have nothing to lose if both opinions match up for the good, and everything to gain if something that was missed is found, which does happen. Early diagnosis is key," she said. "I hope this will encourage others to get a second opinion and trust their instincts if something doesn't 'feel' right."
Wilson is currently on leave from the Broadway play Fish in the Dark, and plans to return May 5.