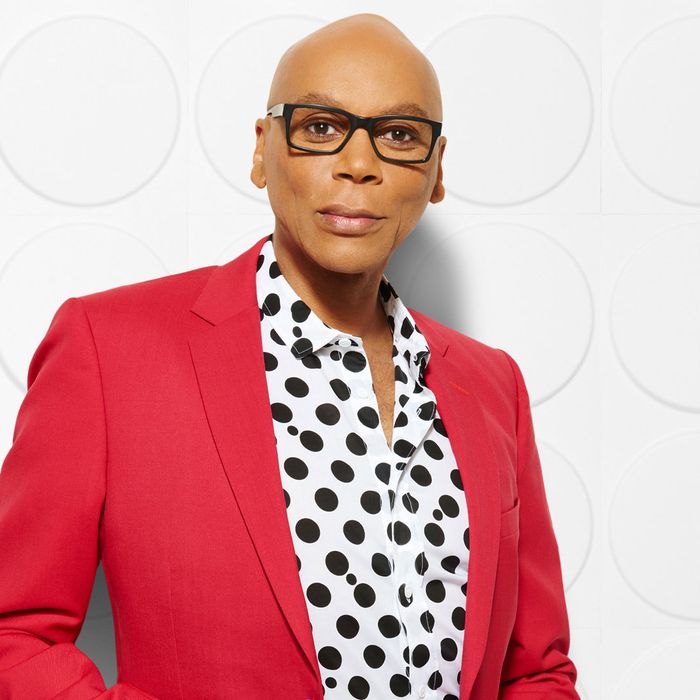 RuPaul.
Photo: Courtesy of E! Entertainment Television
In 1992, RuPaul Charles sang, "You better work." Since then, the author, icon, and host of cult TV favorite, RuPaul's Drag Race, has spent a lifetime discovering what "works" for him. Among the things that don't work for him: ordering off a menu, avoiding soul food. The host of E!'s new show Good Work talked to the Cut about avoiding the "matrix," the connection between plastic surgery and wellness, and why he works out so frequently. 
How I start my mornings: The first thing I do is do yoga stretches. It's important for someone over the age of 35 to do that, so I started when I was 34. I'm 6'4", so if I don't stretch, my alignment goes bonkers. I do about ten minutes with the last five minutes spent in prayer. I'm not religious, but I do pray. It's 60 seconds of meditation, visualizing myself, looking at myself, and being conscious of my own consciousness. That will align me for the rest of the day. I normally get up at four. Today, it was three because I had to go to work at six. I wanted to put some gas in my car. I wanted to turn the water sprinklers on in the dead of night so I don't get arrested for using water in California and get some half-and-half for my coffee. After I get ready, I drive down to my pied-à-terre. I live up in the Hills, but I have a place in West Hollywood where I keep all my clothes. It's where I watch Judge Judy and get on the computer and get ready for work.
How I sweat: I try to do three active things a day because I have to fit into costumes that are very tight. I'm at an age where I have to do those things, I don't have a choice. There are certain things I want to do with clothes. Those things do make me happy. And the mind-spirit-body angle helps me with the work that I do. Yesterday, I put my bike on the back of the car and went out to Lake Hollywood. I go to the gym at five in the morning and then go do a hike. When the sun comes up, I have a meditation group that meets at 6:30.
On eating: If I'm in Chinatown, I'm going to have Chinese food. I've gone into a soul-food restaurant and had food that was like staring into the eyes of God. I'm not going to turn my nose away. When I go to a restaurant, I don't even look at the menu. I ask what the special is. That is what I'll eat. Life doesn't have to be that difficult. The answers are right in front of us.
How wellness has changed for me: Once you clear out from your consciousness things that no longer matter, you're able to make room for other things. In my 20s, I was concerned with people liking me. Once I got over that bullshit, I found a lot of room for Ella Fitzgerald and Miles Davis. I've grown to being conscious of my own body. I learned to listen to what it needs. And that's huge. The whole time we spend in junior high school could be better served at understanding your own GPS system and what it is telling you to do. But it can be taught, I believe.
On plastic surgery and wellness: Our show celebrates plastic surgery. On Friday, Dr. Terry Dubrow invited me into the operating room while he gave someone a face-lift. I sat right next to him. It was fascinating and I had nothing but love for women on the table. I got to see where the human spirit met with the human body. It was such a beautiful experience, witnessing that place where it all happens. Our whole objective with the show is to guide people in the direction that is most helpful when it comes to taking care of their body. We live longer as humans today. No one has shame about putting on a new roof or rotating their tires. Somehow, in our Christian-Judeo background, we have shame about vanity.
Renée Zellweger's face is talked about on our first show. Ultimately, it's all good. People like to talk. As my mother said, "Ru — pay them bitches no mind unless they're paying your bills." Go for it. Whatever you want to do — so long as you don't hurt anybody else. People are going to talk. Bitches are going to hate. But don't let that stop you. They elected Bush twice.
My wellness advice is: [People] would have to learn stillness — sit still. It baffles my mind to watch people walk down the street looking at their phone. The fundamentals of being present are to look and watch where you are walking. When I was 14, I made a vow to never be in the matrix — the matrix being the status quo. The matrix directives come from the internet or billboards. It gets very difficult when there is so much pull into the matrix. I have always kept a foot on the outside while maintaining a checking account. But I'm not a phone person. It bores me. I will do the internet occasionally. But I'm a sensitive, sensitive man-child. I have to be very careful with what I put into my body.
You are an extension of the power that created this universe. You can be whatever you want to be. We are all God in drag. Doing drag is an expression of God. It's a physical expression of it. I can do anything! I'm a boy, not a girl! There was this guy, Danny the Wonder Pony, and he used to walk around with this saddle on his back. And I was like, Okay, whatever. He was the realization of his imagination. The power that created all of this can do anything and come into physical form. You can experience life, no judgment.