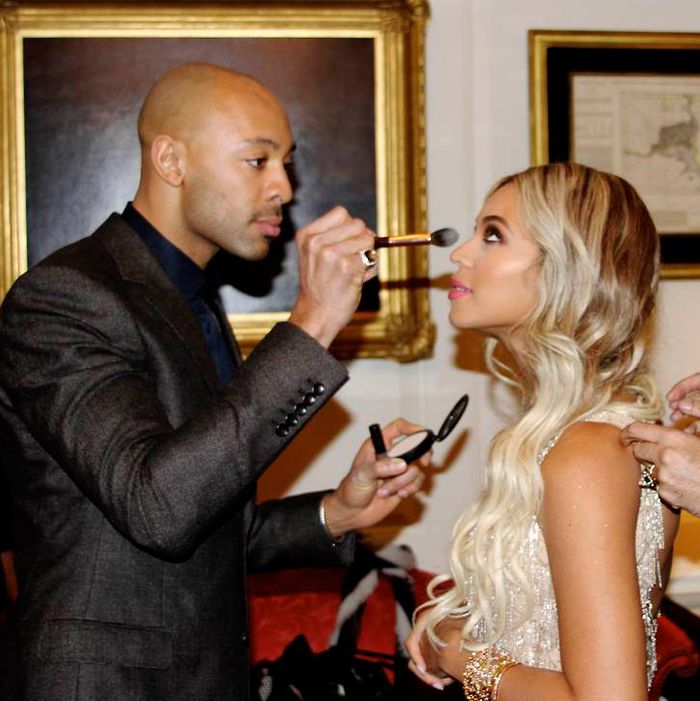 Sir John applying Beyoncé's makeup at the White House in 2014.
Photo: beyonce.com
When Beyoncé needed to create iconic makeup looks for her visual album, she called on her longtime makeup artist Sir John Barnett (yes, this is the name he's had since birth). Sir John worked with her on both the album and its accompanying On the Run tour, while also taking time to paint the faces of Chrissy Teigen, Joan Smalls, and Karlie Kloss. Most recently he was tapped by L'Oréal Paris to become the brand's new Celebrity Makeup Artist, where he will have a hand in formulating new products. The Cut spoke with Sir John about face massages, his favorite beauty foods, and why eye cream should be used all over the face.
Tell me about your new role at L'Oréal Paris.
I'm working with the company in product development and engaging with customers via social media. The digital aspect is bringing not just consumers, but beauty addicts and social media into the equation. Not to mention, I'm working with formulas and trends. I'll also be working on ads, commercials, campaigns, and things of that nature.
You didn't start your career as a makeup artist. What clicked to make you consider this as a career?
It sort of happened … it fell on my lap completely by mistake and I sort of rolled with it. I started out on canvases and working with crayons, pastels, and charcoal. Now the medium for me now happens to be faces [Editor's note: Sir John studied art in college]. I love being the reason that [clients] have a little bit more confidence when they enter a room or are able to face the press. I used to be an assistant to a few greats in the industry, and I've had this solo career for about three or four years now.
What did you learn while working under Pat McGrath and Charlotte Tilbury?
Anything but perfection is failure when it comes to what we do. You have to have an eye. You have to see things that your client doesn't see. You have to see things that the editors or the photographers don't see. You're there to have that laser-sharp vision that makes the whole picture work.
How do you approach a face?
I always approach a face with skin in mind first. This gives me a connection with the client. I always give [the client] a quick facial before we start makeup. It can be everything from a toner or a glycolic peel. I like to hydrate the skin — when you do that, you are increasing the circulation and blood flow onto the face. This helps makeup apply more easily and makes the skin underneath the makeup more radiant.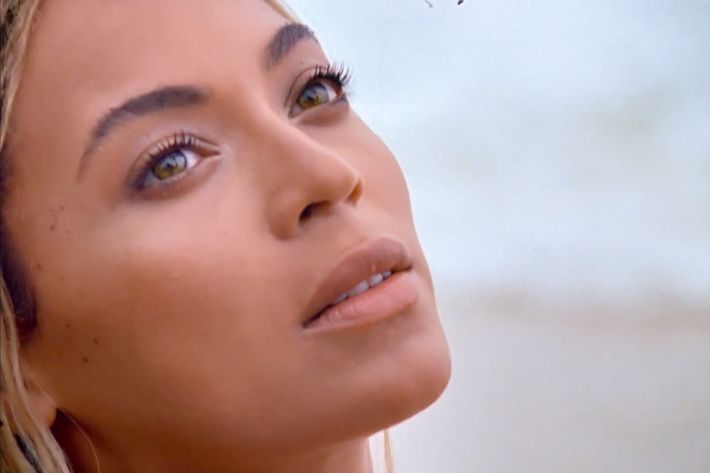 I read that you prefer to use eye cream all over the face because eye cream is made of smaller, more delicate particles that are better absorbed. Do you still do that?
I do. I'm a skin-care junkie. I like to use eye creams around the face. I also like to use face creams on the body. I approach the body from head to toe as if the whole body will be seen. Most women concern themselves only with the area from hairline to the chin. It's not about that. It's about bringing the conversation of skin care into the décolleté, onto your back, and into your legs.
But get your skin into good condition; drink kale. Kale is very high in vitamin K and it increases circulation and helps cell turnover. If you approach your makeup with a holistic approach to health, everything else seems a bit easier. But a highlighter also helps! I like cream highlighters instead of powdery, shimmery bricks because they appear a bit more natural. When you want that beachy glow, make sure the products you use have a soft quality. It's not so much of a shimmery, glittery highlight as it is more of an emollient, glowing post-SoulCycle, post-sex kind of look. L'Oréal Lumi is my current favorite highlighter.
Last weekend, Rihanna wore this bright-purple lip and immediately caused the lip color to go out of stock. It reminded me of the purple lip you gave Joan Smalls at the Met Gala last year. Do you think you'll continue with the violet-hued trend?
Honestly, can I tell you the truth? That was a moment in time. I'll never say never, but I want that to sort of live in the space between Joan and I. Hopefully, this year I can do something new and as exciting and as impactful as Joan's lip. It goes down in Met Ball history, which is kind of cool.
This interview has been condensed and edited.