Slutever on That Name and L.A. Punk
<span>Nicole Snyder and Rachel Gagliardi say their goal is to &ldquo;inspire other girls to play music.&rdquo; </span>

The new female musicians to see this summer.
Slutever on That Name and L.A. Punk
Photographs by Shae Detar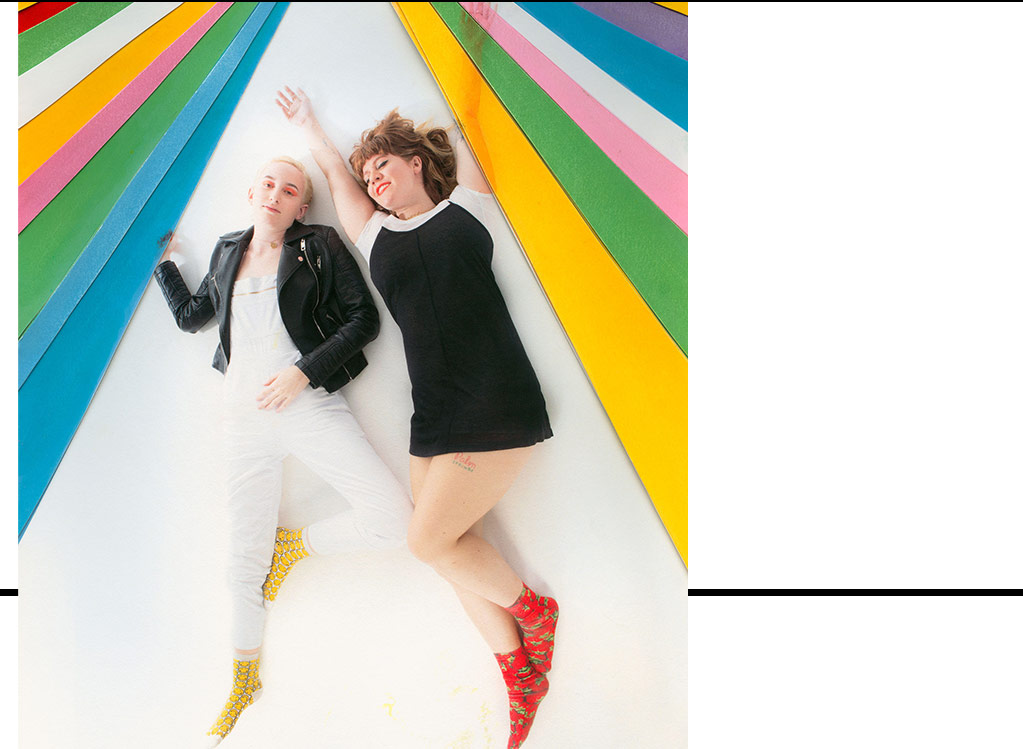 Band: Slutever
Names: Nicole Snyder, 24, Rachel Gagliardi, 25
Single to Hear: "Open Wide"
Video to Watch: "White Flag"
Where to See Them This Summer: The Echo in May
Hometown: Philadelphia
Twitter: @sluteverforever
Instagram: @sluteverbff
Nicole Snyder and Rachel Gagliardi of the L.A.-based punk outfit Slutever don't take themselves too seriously — but that hasn't stopped them from being labeled as a kind of nouveau riot grrrl act. "I think the confusion was made because we were two girls in a loud punk band, but our songs were never about any heavy issues," says Snyder. "They're really personal and silly." Slutever's brand of punk rock is a perfect blend of sarcasm and seriousness, evident on grunge-heavy songs like "White Flag" — a spunky ode to procrastination — and "Smells Like Milk," a tongue-in-cheek meditation on loneliness. Snyder and Gagliardi run in the same circles as garage-rock bands like Peach Kelli Pop and Girlpool. Their most recent EP, Almost Famous, which features infectious, gritty songs like "Teen Mom" and "1994" debuted in February.
Snyder and Gagliardi spoke to the Cut about how they fight before going onstage, the influence of Kathleen Hanna, and their goal of getting "other girls to play music."
How did you guys come up with the name Slutever? Do you think it has given listeners or people unfamiliar with the band a strange perception of who you are?
Nicole: I definitely think it has done that. The name just happened naturally: We just saw the word and thought it was a good band name. In the beginning, we got roped into the riot grrrl–inspired movement. I think there were a lot of female punk bands coming out and music writers didn't necessarily know what to call it so they roped a lot of female bands into this big riot grrrl umbrella. I think that's what happened to us. I think people think we have more of a political agenda than we actually do. It's equal parts sarcastic and serious. We lean more towards the sarcasm, personally, but our music is in between the two. Some people might get a weird impression, but we try to not take it too seriously.
What is your agenda as a band?
Rachel: I think we just want to inspire other girls to play music. We just want to feel like we're empowering ourselves by doing everything ourselves. We have control over every aspect. We make the mail orders, go to the post office, book our own shows, and write our own songs. We just do everything ourselves. I think it's something that has given us a lot of self-confidence. I hope we inspire other people to do it too.
Do you look forward to the day when you don't have to abide by such a DIY ethos?
Nicole: It's really important to us and it's gotten us really far. It's extra hard with only two people, and it's been a passion project, but we're finally getting to the point where we're ready to accept help. It can be overwhelming and really distracting from the ultimate goal, which is to just be creating new material, when you're spending most of your time answering emails and making mailers.
When do you feel most empowered?
Rachel: I feel most empowered when other girls come up to us at shows and are so excited by what we're doing — whether they want to play music themselves, are doing a 'zine, or want to interview us. I think we've made all of our best friends from shows we've played. We've surrounded ourselves with predominantly creative women.
Have you ever faced any sexism on tour?
Rachel: Honestly, very little, I would say. We try to play it safe with bands that we know, or a safe space with our friends' bands. I'm sure there's been a little bit of weirdness at some shows, but for the most part, it's not something we've really struggled with firsthand on tour.
Nicole: It's always just little things. Like, there's definitely been a few instances where we've walked into a venue and the sound guy will say, "Where's your drummer?" And it's like, "Ummmm, you're looking at them!" And it's kind of weird. I used to defend that question, like, there are just two of us, but then I realized that that was the sexism that everyone was talking about. It rears its head in really little ways.
How would you describe the punk scene in L.A. right now? The Smell is a legendary venue, but are there other spaces cropping up?
Rachel: I'm in another band called Upset and we just got off of a month tour, and we're four women, and our other guitarist is in another band called Benny the Jet Rodriguez. We just finished a show with Girlpool, who are from here. It's just a lot of our friends' bands that I feel like we play shows with. It's less about the spaces. There aren't, like, a lot of cool punk venues in L.A.
Nicole: I disagree. There are a lot of cool DIY art spots and weird, literally underground, spaces popping up. People like Honey Power are throwing really cool shows. I've only been here eight months. I feel like in the last two months I've found out about a lot more places. It's hard, because Los Angeles is so big, to have a close-knit scene — at least that's been the case for us. And the scenes that do exist feel a little cliquey, or exclusive to an extent, but there are a lot of cool bands and no shortage of places to play if you want to make an effort.
Do you have any preshow traditions before you go onstage?
Nicole: Yeah! We like to get into fights right before we play shows. We like to smoke weed, stand at the merch table awkwardly and talk about the people around us. Not in the negative way, well, not really. There's no holding hands and praying, but we just get up there and do it. Fights aren't a ritual. They just kind of happen.
Do you feel that naming yourselves Slutever makes people think of the word slut in a different way?
Rachel: Women can be whatever they want. In our minds, people can say whatever they want to say about us. If people want to think that a woman has to be a certain thing, I think at our live show it's just the two of us, and we're really loud, aggressive, and hard to ignore. I think it helps take away that women have to be submissive or aren't as powerful. I hope we're breaking down those stereotypes.
Nicole: I guess it goes back to taking a word that has a negative connotation, reclaiming it, and stripping it of its ugliness and power. It's not such a scary thing when you're able to take a word and put it into a different context.
Rachel: It's like with Kathleen Hanna who used to write the word slut on her chest in lipstick. If you're gonna call me a [slut], I'll just call myself that word and put in on my chest so you can understand I don't care. What you're saying about me doesn't affect me.
(On snyder (left): Acne Studios leather jacket, $1,600, at 33 Greene St., 212-334-8345; acnestudios.com. American Apparel overalls, similar styles available at americanapparel.net. Artist's own socks. On right: Vintage t-shirt dress from The Way We Wore. Artist's own socks. Photographs by Shae Detar, styling by Amanda Lee Shirreffs, makeup by Dina Gregg.)