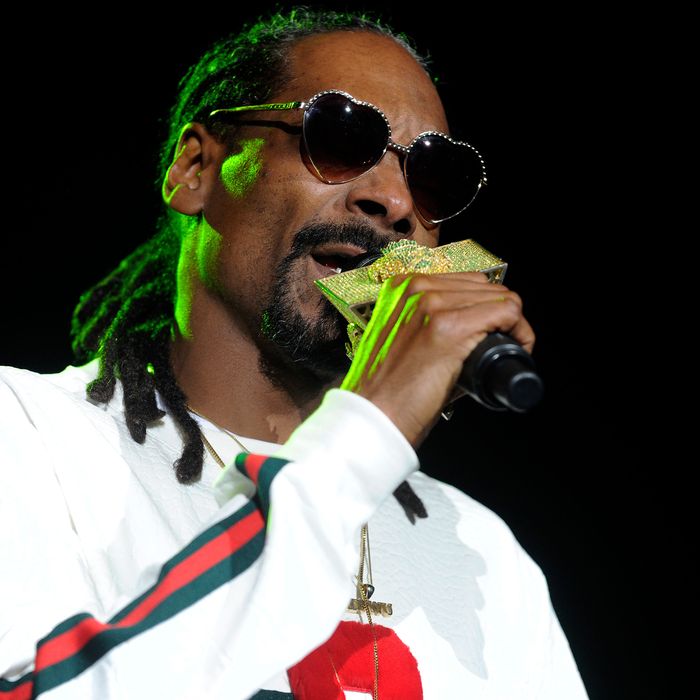 Snoop Dogg
Photo: Seth McConnell/Getty Images
Snoop Dogg was on hand in Colorado recently to host his second annual 4/20 Wellness Retreat. Snoop's version of a wellness retreat included a concert held by other cannabis connoisseurs and friends like A$AP Rocky. Here, he talks to us about his theories on staying healthy and sane as he prepares for the release of his new album BUSH on May 12, which, he told the Cut, is "a cool, funky, old-school sound. My fans will get a chance to see a different side of Snoop." 

How I start my mornings: Gotta start off the day lighting one up and eating some fruit.
How I like to sweat: I coach kids through my Snoop Youth Football League, so I'm active when I'm out on the field.
To me, wellness is: "Wellness" means taking care of yourself and making sure that you stay on top of the game. Cannabis keeps me feeling good and allows me to be more creative, which is important as an artist. You gotta keep feeling inspired. Weed relaxes you and opens your mind. It can also make you laugh, which is a great form of medicine. I also drink Cuca Fresca [Editor's Note: A sponsor of the Wellness Retreat] because it's fresh and all-natural. Cuca Fresca fits the term wellness because it's an organic liquor. I fell in love with the Caipirinha when I was in Brazil in 2003, and been drinking it ever since.
I wanted to create an annual event to celebrate my favorite holiday, 4/20, with my fans. I'm looking forward to expanding the retreat to other cities and countries around the globe to take this holiday worldwide. We moved the show to larger arenas this year so it was bigger and better than last year's. The homies 2Chainz and A$AP Rocky came out, so it was a celebration.
How wellness has changed for me: As I get older, I'm realizing how important balance and sleep are to staying focused and energized.
The rest of my wellness routine is: Getting a decent amount of sleep, listening to good music cuz it's good for the soul, and smoking good weed.