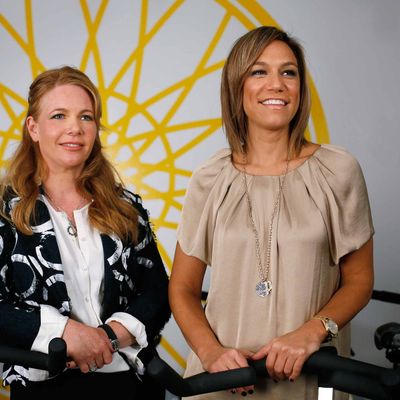 Elizabeth Cutler and Julie Rice.
Photo: Victor J. Blue/Bloomberg via Getty Images
Julie Rice, a former talent manager from L.A., and Elizabeth Cutler, who previously worked in real estate in Colorado, are the women behind the nearly decade-old spin-class phenomenon SoulCycle. Or, as your iPhone might have grown accustomed to auto-correcting it, SC.
It's been four years since they sold the privately held company to Equinox gym, and though some might have taken that coup as an opportunity for early retirement, Ms. Rice and Ms. Cutler are moving full-steam ahead.
In an interview with the Coveteur, they discussed their plans (which include building "20 studios a year for the next four years") and their big hopes (studios in London, collaborations with Riccardo Tisci, Alexander Wang, or Jeremy Scott — "Let Jeremy know we're trying to find him!").
Ambitious! But, of course, that's hardly a surprise.