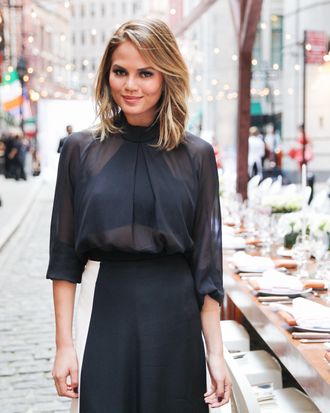 Chrissy Teigen, lover of bacon and feeling good.
Photo: Angela Pham/BFAnyc.com
Model and Twitter favorite Chrissy Teigen is famous for being "a girl who loves bacon and can't be fat." On social media and her food blog, So Delushious, Teigen also often publicly documents her own real wellness challenges, calling herself a "nutritionist's nightmare" and tweeting things like "Hour 4. Juice cleanse. Pretty over juice. 9 days and 20 hours to go." Teigen is also the host of the tenth anniversary gala for I Heart WITS, a charitable event that benefits Wellness in the Schools, a nonprofit organization dedicated to children's health and wellness in NYC public schools. She talks to us about late-night snacking, long careers, and what she does to keep herself "well."
How I start my mornings: I usually wake up at 8 a.m. or so on a non-workday. I make one of two things for breakfast: two eggs over easy with sliced avocado and turkey bacon, doused in Cholula sauce, or, a slice of Ezekiel bread with prosciutto, avocado mash, sliced tomatoes, and red onion. Not only is the bread sprouted grains, but it's the only thing solid enough to hold all of those ingredients without breaking!
How I like to sweat: I am loving Body by Simone right now. I have hit that point in my life where I need to add cardio into my regimen and it's the perfect balance of movement and mat.
To me, wellness is: Doing the best for you. It will never be the same for everyone, but you do what you can to make sure you feel healthy and happy.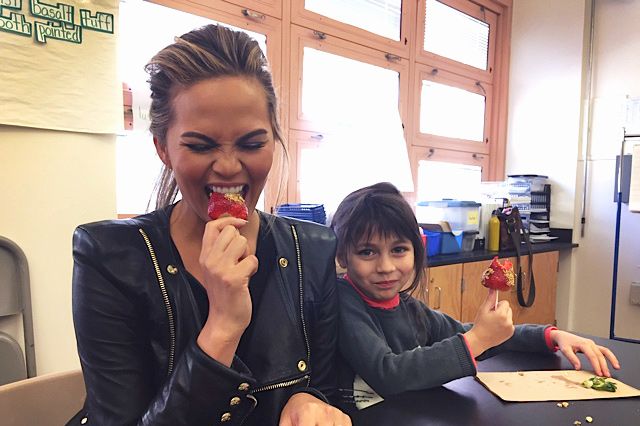 How wellness has changed for me: When I first started modeling, I had no wellness theory. I did things that I would never do now, such as binge-diet — which would turn into binge-eating and smoking to curb the appetite. They were really horrible things that were just quick solutions for my fixation on weight. I am completely driven by cravings. I am the kind of person commercials are made for. I also love to read cookbooks — I read them like novels and even bring them on the plane.
What I realize now about wellness is: Anyone that has any longevity in this career takes care of themselves. People think models never eat, do drugs, or chain-smoke. But I realize more and more that the girls I love — the Karlies and Giseles and Candices and Tyras and Gigis — lead extremely healthy lives. I love food, but I love to feel fit and healthy. It's both fun and frustrating to find that balance, but it's not a solo journey.
My biggest wellness struggle is: Loving to eat hearty, filling foods very late at night.
How I eat when I'm alone: When I'm eating alone, I tend to eat healthier. I love cooking hearty meals for my husband or our friends. It makes me happy to make family-style meals, and most of my dishes are very rich because richness pleases the masses quite well.
My shortcut is: If I have a big shoot coming up, I do low-carb, no red meat, and earlier dinners. And I just tell myself that sure, maybe I cannot eat all the things I'd love to today. But there are many more days in the week, and that perfect bite will come when I'm done with whatever shoot. There will always be potatoes and pasta waiting. They aren't going anywhere.
My wellness advice is: My advice to people coping with their own balance with wellness is: Listen to your own body! And, things are never, ever as they seem. Even on television I am full of fake hair and covered in body makeup head-to-toe. Those full lashes have been applied meticulously one by one, my teeth have spent more hours in a dentist chair than I ever imagined. We have a team of people whose sole job is to make people appear close-to-perfect. And oh, the retouching. My bathroom mirror on any normal day would laugh hysterically if you told it I was flawless in any way! And that is fine with me.
This interview has been condensed and edited.