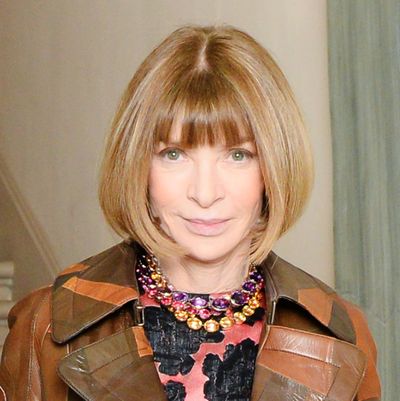 Dirk Standen; Anna Wintour.
Photo: BFA
Business of Fashion reports that Style.com will relaunch as a global e-commerce site this fall. Meanwhile, the site's editorial coverage will be folded into American Vogue, with fashion news and runway coverage migrating to a new url, Voguerunway.com.
Though the date of the transition has not yet been disclosed, the restructuring is not entirely unanticipated: The two Condé Nast sites have produced overlapping fashion coverage since Vogue.com launched in 2010 (Style.com, which was originally conceived as the online home of American Vogue and W, has been around since 2000), and Style.com editor-in-chief Dirk Standen has been reporting to Anna Wintour since November.
The new e-commerce version of Style.com will launch in the U.K. this fall, with plans to expand to the U.S., Asia, and Europe in early 2016. According to Condé Nast CEO Jonathan Newhouse, the publisher will invest over $100 million in the new venture. "In some ways [Style.com] duplicated and overlapped the vision of Vogue.com in the U.S.," he said of the decision. "It was decided that this was really a great brand name for what we want to do with e-commerce."