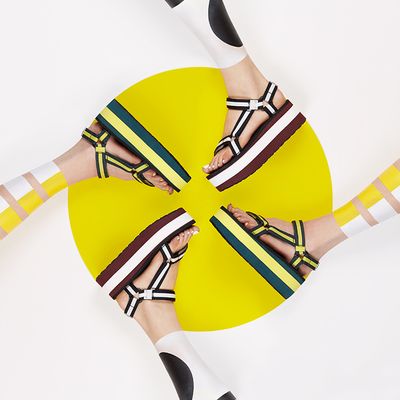 Photo: Courtesy of Opening Ceremony
You probably have faint memories of seeing Tevas on your camp counselor or middle-school teacher. But now, much like the return of the Birkenstock, they've mounted a big, cushy comeback. First Marc Jacobs showed really fancy pairs on his spring 2014 runway, then came collaboration with the likes of Opening Ceremony and Nasty Gal. This week marks OC's second collection for Teva, which features the "Hurricane XLT Gladiator" and "Psyclone," two styles traditionally seen on casual hikers. They're reimagined in bright colors and are about as weird and wonderful as you'd expect. A highlight of the collection is the brand-new women's Flatform Universal, a colorful platform sandal with a modern lift, making them a comfortable everyday option for summer.
Pre-sale for the collection starts today exclusively on Opening Ceremony's online site and will be available in the store on May 5, with prices ranging from $60 to $120.