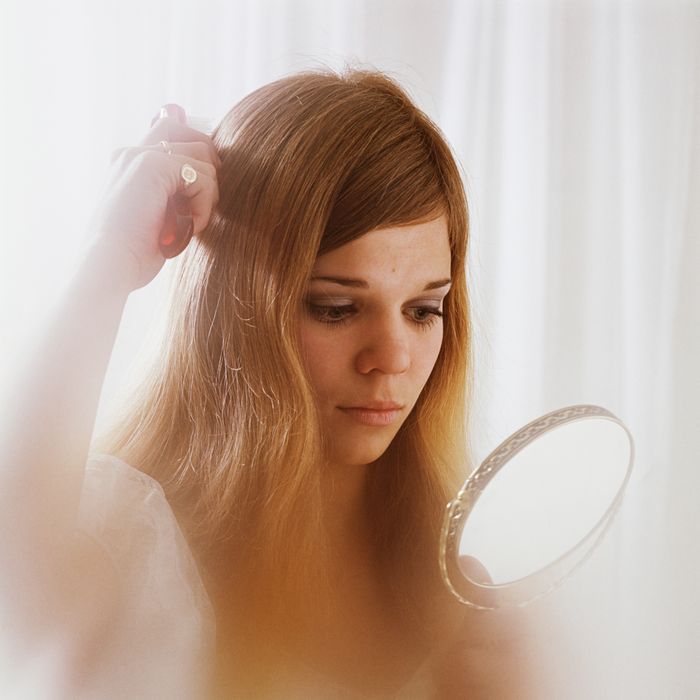 Photo: Dennis Hallinan/Getty Images
For women with thinning hair, their biological bad luck is often a source of shame, diminished self-confidence, and despair.
Common solutions — such as scalp-concealing powers, hairpieces, and wigs — only conceal the evidence, offering little in the way of a cure or correction. When I wrote about this topic last year for the Daily Beast, the best bet for women (or men) seeking a long-term and substantive improvement on their thinning scalps was hair-follicle transplant surgery. A pricey procedure that can run you as much as $20,000 (for a standard 2,000-follicle re-homing), this surgery takes as much as a year to manifest visible results, and even then, you're not getting your 18-year-old mane back.
But over at the New York Times, Courtney Rubin has reported on a new outpatient procedure with minimal side effects recently made available to the public: platelet rich plasma (or P.R.P. for short).
The procedure involves drawing blood, spinning it in a centrifuge to extract the plasma, adding various nutrients (like more protein), then injecting the resulting mixture in one-inch intervals in a grid on the top of the scalp, which has been numbed with a local anesthetic.
Unlike the the infrared laser combs that espouse science in order to seem like a serviceable solution (they're not), P.R.P. works to regenerate growth in dormant follicles 80 percent of the time, with results coming in as soon as two to four months after injection. Another selling point: One hourlong treatment with P.R.P. costs a comparatively low $1,400.
For young women who experience an early onset of androgenic alopecia (diffuse hair loss — which we all experience eventually), the price point and short recovery time of P.R.P. are within reach and reason.