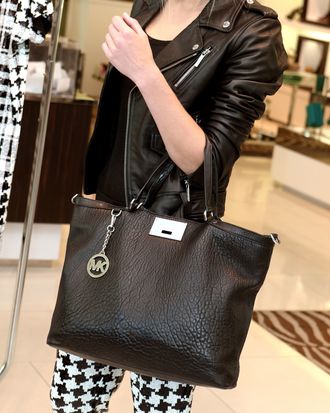 Photo: Jason Kempin/Getty Images
When I was 10, I returned to the United States from London, where I'd lived for the past five years, and my best friend was OBSESSED with Kate Spade handbags. I knew nothing of American trends at the time, but even I knew Kate Spade was the epitome of tween chic.
Fifteen years later, a recent study by Piper Jaffray finds that teens are so over Kate Spade (who has fallen in favor to position three, with just over 5 percent of market share) and totally into Michael Kors.
Bloomberg reports that "39 percent of average-income girls choose Kors as their preferred handbag label," a significant 32 percent rise in only three years, while "[rival] handbag maker Coach fell from 46 percent to 17 percent in the same period." (Coach is stuck in second place between Michael Kors and Kate Spade.)
Teens are an excellent barometer of success:
Teens are highly influenced by other consumers, making the demographic an important indicator, and young shoppers become an influential force once they pick up on something. 
While the No. 1 slot may seem like great news for Kors, it's actually a precarious position to be in. Oversaturation can dilute brand appeal; Coach chose to reduce discounts in order to bolster cachet and appeal to a higher-rolling demographic (adults), after the previous turn on top proved unsustainable. 
While Kors has not yet made any measures to stabilize their standing, Piper Jaffray analyst Erinn Murphy fears fashion teens may force them to do so: "My guess is that it'll be hard to sustain at this level."