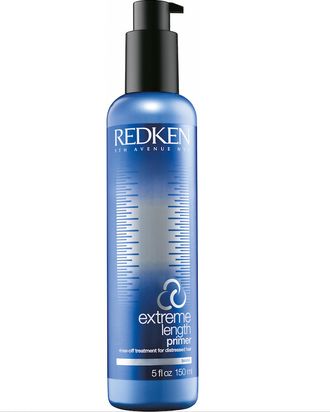 Redken Extreme Length Primer.
Photo: Courtesy of Redken
A few months ago, when the ends of my hair felt like the bristles on an overworked broom, I knew it was time for a big haircut. So, I went to Mizu Salon, where I bid farewell to six inches of badly damaged hair and welcomed a bevy of strengthening products into my routine, including Redken's Extreme Length Primer — an in-shower treatment that promises to protect hair and increase its growth potential.
The primer looks and feels like a serum, but you apply it to wet hair and then rinse it off. My first question: When to apply the primer? The label is vague, so I took a staff suggestion from Ulta's website and used it in two ways: sometimes as a conditioner replacement, and sometimes in addition to Redken's Extreme Conditioner. I've ended up applying the primer twice a week and using both methods.
After rinsing out the serum, I find that my hair feels noticeably stronger — like the strands have a protective coating. My ends no longer snap when confronted with a detangling comb, and with two months of consistent use, my hair seems to be growing at a steady pace. I've picked up an inch in length; and my pillows, hairbrushes, and ponytail holders are all collecting fewer broken strands.
Redken claims that biotin enables the primer to protect weak and damaged hair, but I'm a bit skeptical, since there's no evidence that biotin applied topically has the same benefits as an oral supplement. I'm more inclined to believe that arginine, an amino acid known to promote hair growth, is the treatment's star ingredient. But whatever makes Redken's Extreme Length Primer work, I'm on my way to Rapunzel-worthy hair achievements.
Redken Extreme Length Primer, $22 at Ulta.