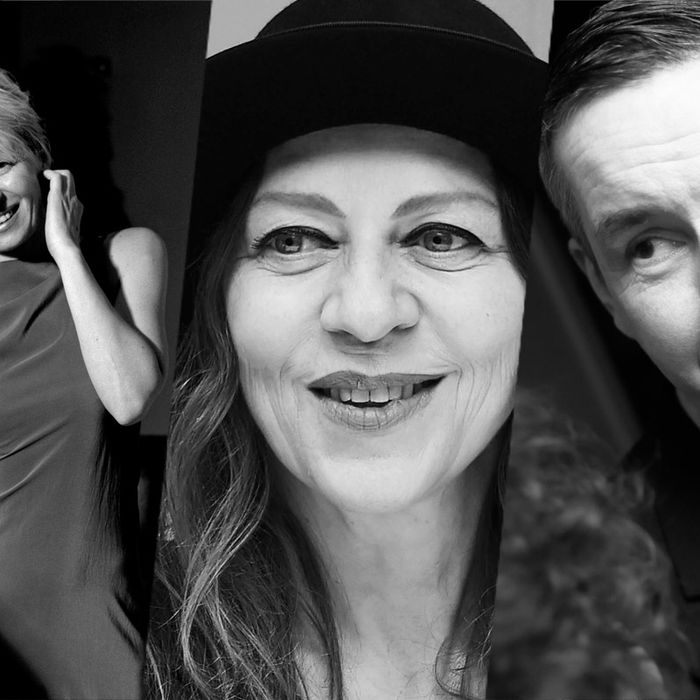 Marina Yee; Ann Demeulemeester; Dries Van Noten.
Photo: Marleen Daniels/AFP/Getty Images; Jun Sato/WireImage; BFA
There's a new theme every day on It's Vintage. Read more articles on today's topic: The Belgian Invasion.
Fashion revolutions don't happen overnight. The seven Belgian designers who emerged from Antwerp's Royal Academy in the '80s would go on to take over Paris Fashion Week and prove that the French and Italians were not the only game in town. Here's how they did it.

1663: The Antwerp Royal Academy of Fine Arts is founded by Flemish painter David Teniers the Younger.
1957: Walter Van Beirendonck and Martin Margiela are born. The following year, Dries Van Noten and Marina Yee are born.
1959: Dirk Van Saene, Dirk Bikkembergs, and Ann Demeulemeester are born.
Circa 1960s: Antwerp's Royal Academy (the future alma mater of all seven designers) institutes its fashion department.
1976–1982: The Academy Years
Presiding over the Royal Academy's fashion department is pedagogue Mary Prijot — quite a character, as many of the best fashion educators are, and famously draconian in her discipline and demands. In 1993, when Prijot's former pupils begin to attract attention on the world stage, Amy Spindler will interview her for the New York Times. "Martin was strong from the beginning," Prijot tells the paper. "Dries had many qualities you could feel. Ann was a very good drawer. One day she said, 'You're always criticizing,' and I said, 'Yes. It's my job.'"
Prijot holds her pupils to extremely high standards. "There was only one good designer," Dries Van Noten recounts to Spindler, "and that was Chanel. And only one nice haircut, and that was a chignon." She reportedly sends Ann Demeulemeester to put her hair up when she dares to wear it down in class. From Prijot, the students get the most you could ever want from a fashion education: exacting standards and a force to rally against.
By the late '70s,  Italian designers like Walter Albini and Giorgio Armani prove that you no longer need to be French to be a big-time player on the international fashion scene. But while the fashion climate becomes increasingly international, it is dominated by the ostentation of spectacle of designers like Claude Montana and Thierry Mugler, a glamour the Antwerp students cannot relate to. Soon, they will begin to foment an alternate vision.
1980: Van Beirendonck and Margiela graduate in 1980, while Van Noten, Van Saene, Yee, and Demeulemeester graduate the following year.
1981: Van Saene opens a store called Beauties and Heroes, in Antwerp. Yohji Yamamoto and Comme des Garçons' Rei Kawakubo arrive in Paris and upend the fashion scene with deconstructed, abstract looks. The Antwerp crew — which often forges invitations to sneak into Paris shows — pays close attention.
1982: Bikkembergs graduates. Demeulemeester wins the inaugural Golden Spindle award, a prize created to promote Belgian designers amid governmental efforts to strengthen Belgium's textile industry.
1983: Van Beirendonck begins showing collections under his own name. Dirk Van Saene wins the Golden Spindle award.
1984: The self-effacing Margiela is said to have officially begun assisting Jean Paul Gaultier in Paris and is privy to all the wonders and spectacle '80s Paris fashion has to offer. Gaultier later recalls Margiela as being the best assistant he ever had: "I already knew he was good, but I didn't realize to what extent."
1985: Demeulemeester launches her own line. Van Beirendonck begins teaching at the Royal Academy. Bikkembergs wins the Golden Spindle award.
1986: Van Noten shows solo in London.
1987: The Antwerp Six Are Born
By the late '80s, London fashion was making a name for itself through young and courageous designers like Rifat Özbek, Richmond-Cornejo, John Galliano, and BodyMap. In 1987 the Antwerp group enters the fray, showing at a fashion fair held at the Olympia exhibition hall. Most accounts of the city's Fashion Week point to the Belgians as the season's highlight, marking the beginning of an aggressive interest in Belgian fashion among international press and buyers. (Influential Upper West Side boutique Charivari will later report that it sells more Belgian than Italian designers.)
1988: Margiela holds his first show in Paris, to rave reviews. The designer will go on to hold innovative shows in settings like a circus tent, or one where he pokes fun at the fashion-world hierarchy by asking attending editors to seat themselves based on importance.
1989: Margiela wins the ANDAM fellowship. Van Noten opens his first store, in Antwerp.
1990: Van Saene has his first show in Paris. Yee withdraws from fashion entirely.
1992: Bikkembergs launches a women's collection. Demeulemeester shows in Paris. Yee moves to Brussels.
1992 (estimated date): Van Saene self-publishes Dirk Van Saene's Bambi, a photo-collaged comic that lampoons the Antwerp designers with a special focus on Demeulemeester. It reportedly becomes a sore subject for Demeulemeester and is said to have caused a rift between Van Saene and the other designers in the Antwerp Six.
1993: Van Noten's first womenswear show in Paris.
1993–2000: The Belgians Have Arrived
By 1993, the Belgians have become a force to be reckoned with. Leading the pack are Margiela, Demeulemeester, and Van Noten. Each with their own unique aesthetic, they, along with Helmut Lang, Miuccia Prada, and Jil Sander, help to define the new mood of the '90s: minimalist, cerebral, and frequently deconstructed. Antwerp becomes an internationally recognized breeding ground for innovative talent, giving rise to Raf Simons, Veronique Branquinho, Bernhard Willhelm, Haider Ackermann, and the lesser-known Josephus Thimister, Patrick Van Ommeslaeghe, and Jurgi Persoons.
1997: Margiela is appointed head designer of Hermès, a position he will hold until 2003, after which he is replaced by his former employer Gaultier, of all people.
2005: Marina Yee makes her second comeback with a line of artisanal handcrafted one-off pieces made from waste materials.
2006: Twenty-five years after graduating, Van Beirendonck becomes director of the fashion department at the Royal Academy of Art.
2009: Margiela is said to have departed from his namesake label and retired from fashion.
2012: The Margiela for H&M collection, featuring retooled versions of many of the house's famous items, hits stores.
2013: Demeulemeester exits fashion, via an evasive announcement delivered via PDF.
2015: Van Beirendonck still knows how to court controversy, and he proves it at his men's show in Paris. Three words: butt-plug brooches.