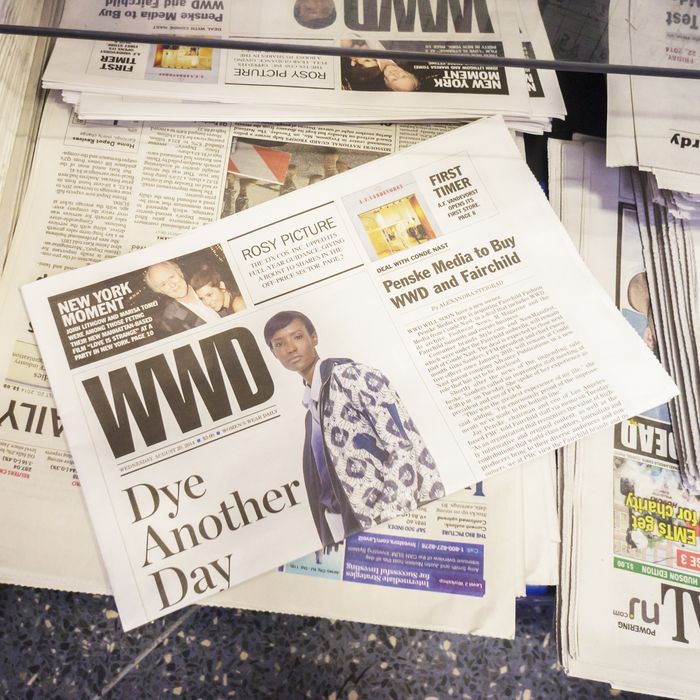 A copy of WWD on the newsstand.
Photo: Richard Levine/Corbis
For 105 years, those within the fashion industry (as well as many outside of it) religiously started their day with a copy of WWD. Today marks the end of that tradition — the April 24 issue will be the last-ever daily print edition of the trade publication. "Today we say goodbye to an old friend, a morning habit for generations," writes WWD editor-in-chief Edward Nardoza in his editor's letter. Starting next week, WWD will launch a weekly edition, with most of the paper's breaking news moving to its website.
In his letter, Nardoza remembers the good old days of journalism, when the "colossal presses in the basement cranked up and thundered through the floors" and a copy of WWD cost a whopping penny (50 cents for a yearly subscription).
The new iteration of WWD, he says, will bring "deeper context, timely analysis, and compelling graphics," as well as a heavy focus on its digital content. "Today, there's nothing cyclical about news," Nardoza writes. "It's Instant Media. A global Niagara of information in a river of technology. Linotypes and Teletypes have given way to silent servers and an alphabet soup of functions and utilities, SEO, URLs, PDFs, CMS, APPs." The new version of the weekly publication will start on April 29.