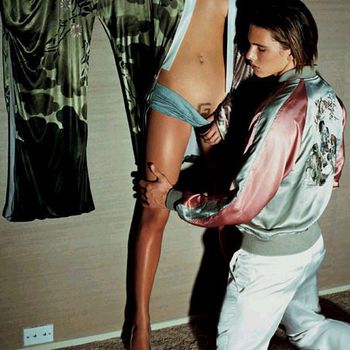 Carmen Kass in the designer's notorious 2004 ads.
There's a new theme every day on It's Vintage. Read more articles on today's topic: Tom Ford at Gucci.
Last week, the fashion world's high beams settled on Alessandro Michele, the recently appointed creative director of Gucci, in anticipation of what his first round of ads for the house might look like. The resulting images, shot by Glen Luchford, showed a sparrow-chested young man taking off his sweater, and model Julia Hafstrom lying on a couch, staring admiringly at an out-of-focus man. While mildly provocative, they were far more demure than the imagery associated with the Tom Ford years, and certainly more stripped-down than the boho-traveler mood shown by Michele's predecessor Frida Giannini.
Why was so much attention paid to a small clutch of fairly tame photos? It's because ever since Tom Ford took the reins at Gucci in 1994, the brand has been synonymous with memorable image-making, and those who follow these things were understandably eager to read the high-gloss tea leaves. In fact, Ford's years at Gucci are so strongly associated with provocation that it's strange to look back and see that his first ad campaign for the brand was actually pretty tame, in comparison to what would soon follow. Amber Valletta, sporting a modish-for-1995 shag, wears the same satiny blue, unbuttoned-to-there look Madonna wore to dodge Courtney Love's flying compact at the MTV Music Awards that year. As Ford settled into his role, the ads got more overtly sexual — Georgina Grenville prone on a couch before an unidentified man, or being groped while wearing one of Ford's body-con dresses.
"He understood more than anyone else that sex sells," says Fern Mallis. And he assembled a dream team to help carry out his vision: photographer Mario Testino, stylist Carine Roitfeld, and creative director Doug Lloyd. In that era, Testino recalled in a 2008 interview with the Independent,  "advertising campaigns became more exciting than editorial. When I started doing Gucci with Tom Ford he pushed me to new heights. He was, like, 'I've seen you do better than that. Don't get worried because it's a campaign.'" After a rumored falling-out with Testino (they later reconciled and re-teamed), Ford worked on campaigns with Terry Richardson, Alexei Hay, and Inez van Lamsweerde and Vinoodh Matadin.
Fashion ads were particularly influential given the paucity of other information out there about shows. "The internet was still a bit in its infancy, and fashion images were not seen immediately from the runway," Cameron Silver points out. "So for a lot of people, the first looks of the collection would be the advertisements in a big book, like in the September issue." And fashion followers hoarded them. Stylist Kate Young, then in college, remembers taping them inside her closet door as inspiration.
Things reached a zenith with the still-referenced 2003 ad campaign, which showed a G shaved into model Carmen Kass's pubic hair. (Testino jokingly called it "Pubic Enemy.") How did people react? Well, the Advertising Standards Authority fielded countless complaints, the watchdog group Mediawatch wanted the campaign banned in the U.K., and The Daily Mail responded to the ad with the following less-than-ambiguous headline: "The people behind this advert are no better than pimps and those who advertise sexual services in phone boxes." The columnist went on to call the work "predictable, exploitative, upmarket sleaze."
But for those who were picking up what Ford was putting down — especially as the '90s wore on and the ideals of conspicuous consumption and bodily perfection were twinned — the ads would speak to a large segment of the population. And like Calvin Klein's '80s campaigns — a clear predecessor — they pushed the boundaries of what was acceptable in fashion advertising. Now, when Ford publishes a provocative image for his eponymous line, the occasional blogger may squawk, but for the most part, it's accepted as what it is: a straightforward (and successful) grab for the viewer's attention. And guess what? It still works like a charm.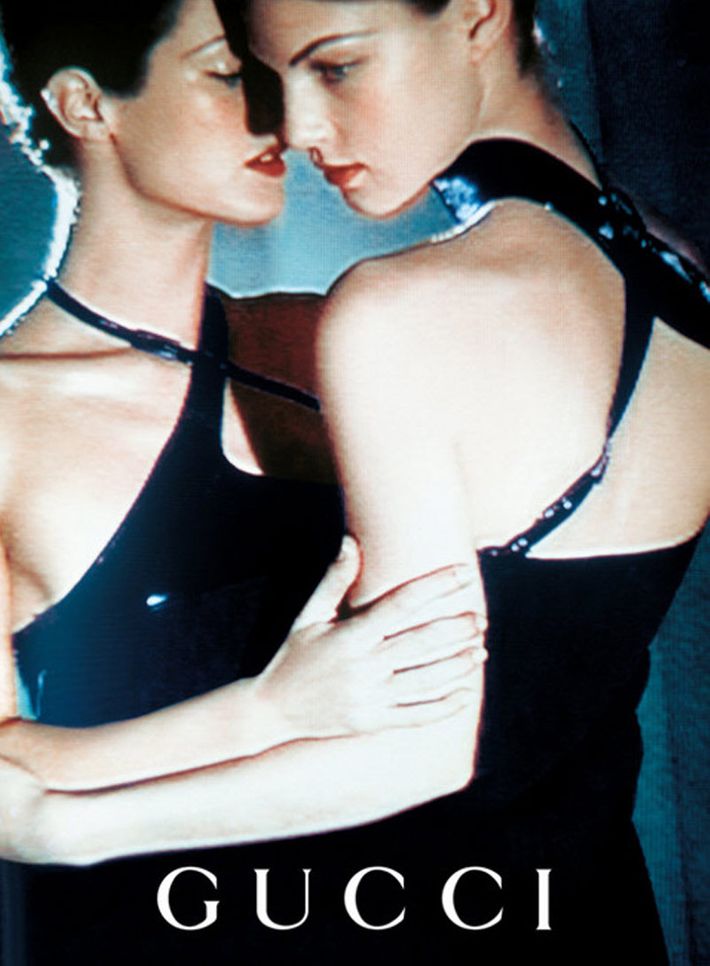 Carolyn Murphy and Angela Lindvall in the fall 1997 campaign.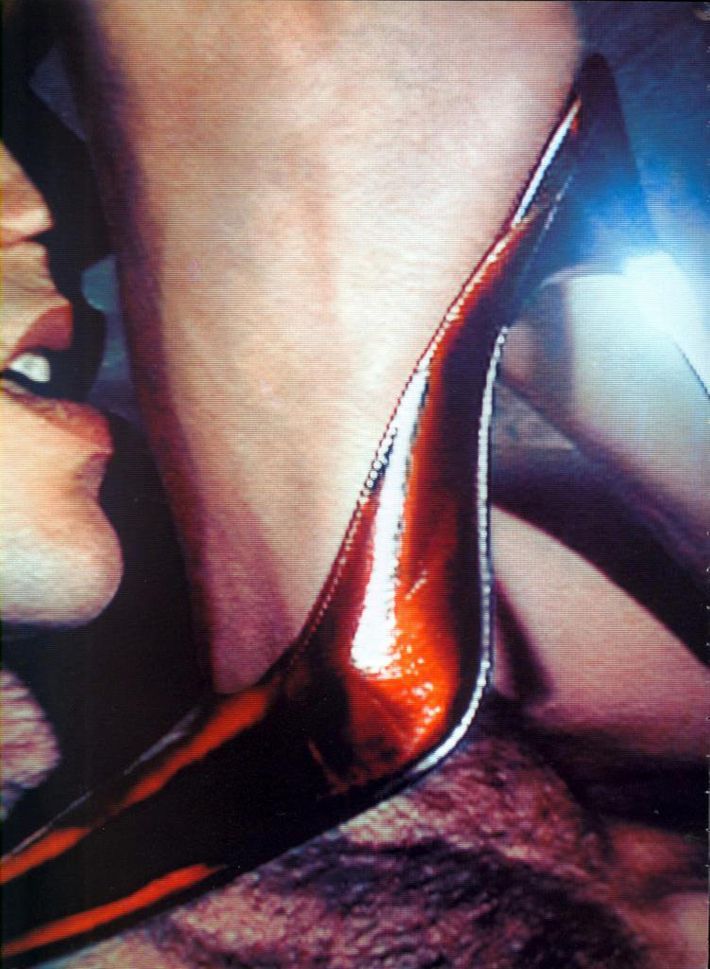 Another shot from the fall 1997 campaign.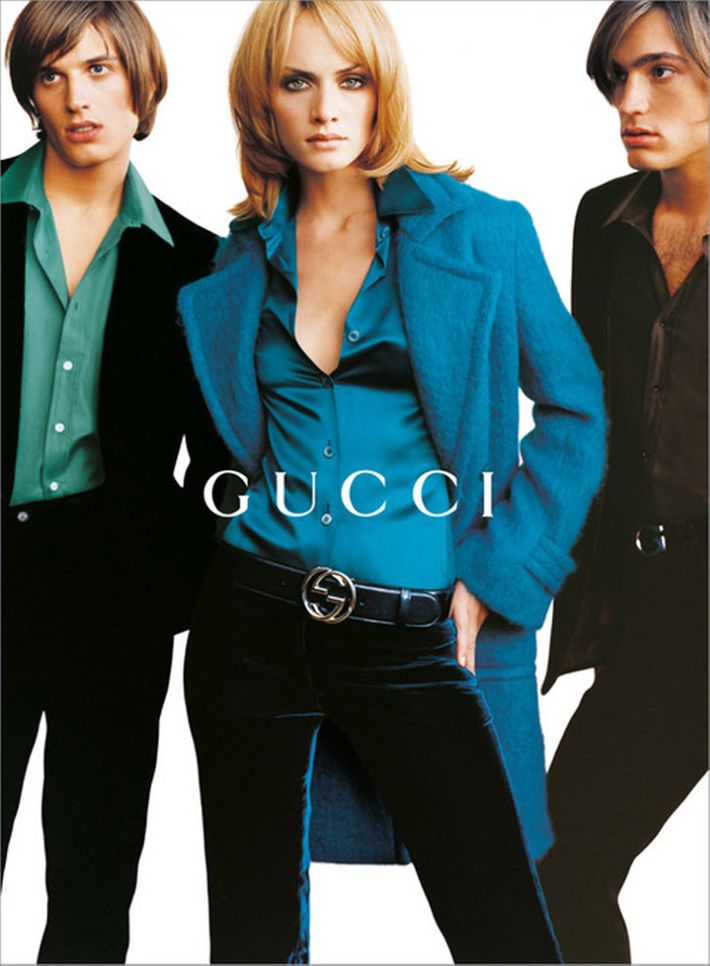 Amber Valletta in the fall 1995 ads.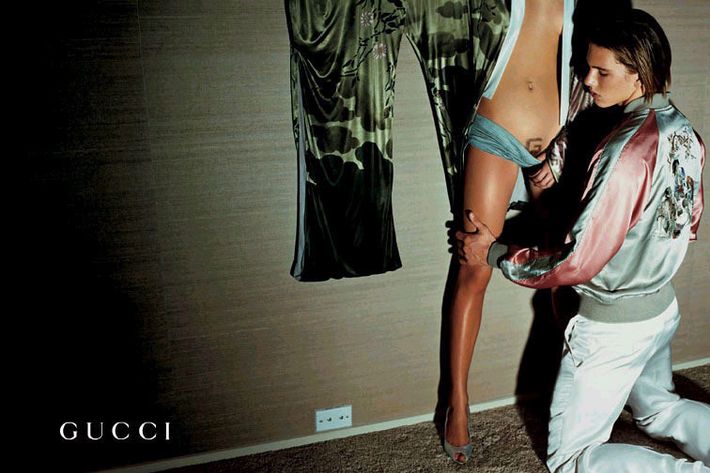 Carmen Kass in the notorious 2004 campaign.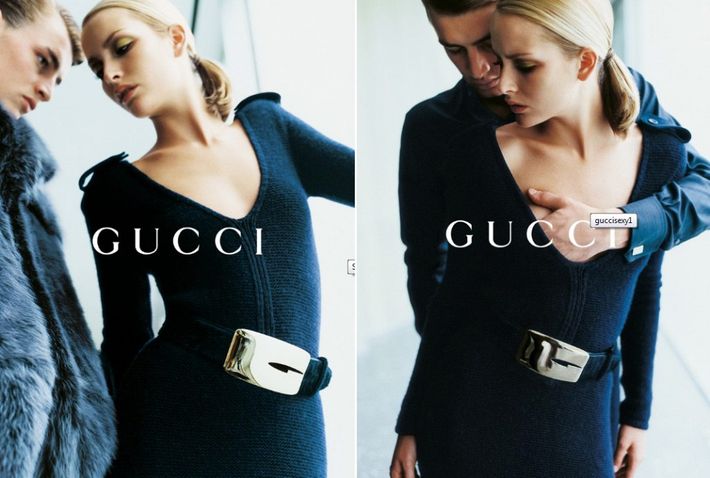 Georgina Grenville in the fall 1996 campaign.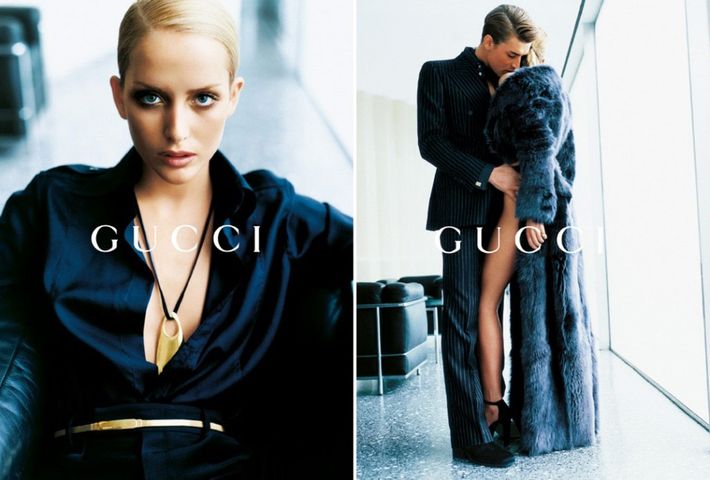 Georgina Grenville and Ludovico Benazzo in the fall 1996 campaign.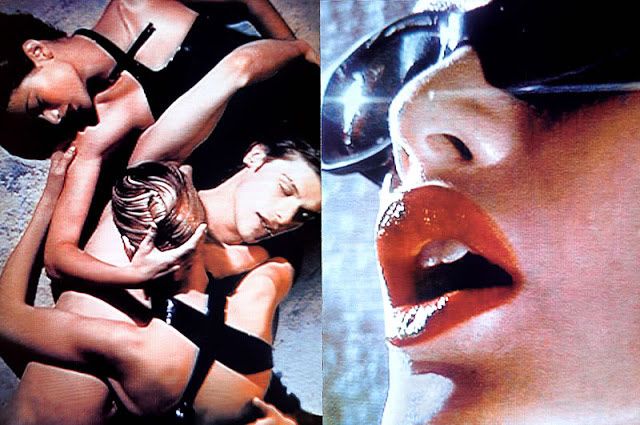 Carolyn Murphy, Angela Lindvall, and Gavin Matthews in the fall 1997 campaign.