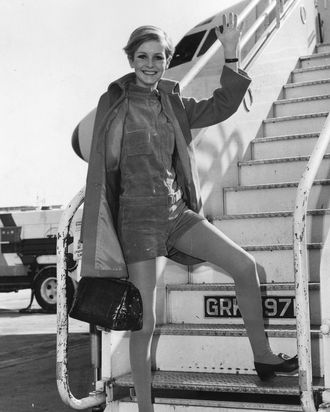 Photo: Central Press/Getty Images
This past month on "It's Vintage," the Cut's pop-up blog, we've traversed several centuries of fashion history. Our voyage into the archives began with Cathy Horyn's reexamination of her 1992 review of Marc Jacobs's infamous grunge show. (The designer told her it remains Jacobs's favorite of his collections.) We revisited the pivotal Battle of Versailles (with the help of Robin Givhan, Bethann Hardison, and Stephen Burrows) and YSL's Scandal collection. André Leon Talley talked to us about bringing John Galliano back from the brink for his spectacular 1994 show at São Schlumberger's residence.
We heard from Valentino about his friendship with Diana Vreeland, Tom Ford about his go-go Gucci years, John Waters on his obsession with Rei Kawakubo, Suzy Menkes on Alexander McQueen's haunting Dante collection, Chloë Sevigny on working at the '90s rave emporium Liquid Sky,  Isaac Mizrahi on his favorite eccentrics in history, Iris Apfel on how she developed her personal style, Parker Posey on her influential look in Party Girl, Patricia Field on costuming The Devil Wears Prada, and Dapper Dan on logomania. Nick Knight walked us through the early days of SHOWstudio, when fashion on the Internet was still a novelty, and Hood by Air's Shayne Oliver reminisced about his years as a tween raver. (He has the baby-blue crushed-velvet turtleneck to prove it.) And the members of our outstanding advisory panel were there to provide wisdom and context every step of the way.
Along the way, we examined some crucial items in fashion history: the much-maligned power suit and its pre–Lean In vision of empowerment; the humble sneaker, which has gone from courtside accessory to high-fashion status symbol; the classic (but always current) trench, the oh-so-entertaining fascinator, the ever-expanding JNCO, the much-missed baby tee, and wearable tech (turns out, it's not nearly as new as you think).
And we unearthed some weird, fun, and too-good-to-be-forgotten moments, like the '80s club-kid extravaganza that was Bodymap, the making of Madonna's first album cover, the Click + Drag parties  of the Web 1.0 era, the designer who introduced the caftan to the West, Dries van Noten's early embrace of the so-called real-model trend, an oddball batch of yé-yé girl videos, and, of course, all things "borgs and Twiddlers."
For those of us who spend our days following fashion's present, delving into its past is always a rewarding experience. Whether it's the cyclical recurrence of trends past, the endless arc of vanity (from 18th-century dandies' corsets to Kim's 21st-century waist trainer) or the Zelig-like cameos by fashion figures (like Kay Thompson, the Eloise author who figured into both the Battle of Versailles and Funny Face). It helps to zoom out every so often and see that the more things change, the more they stay the same. We hope you've enjoyed the change in perspective as much as we have. And we'll leave you with one more treasure from the past, one that didn't find its way into any of our monthly coverage but that needs to be seen to be experienced. Presenting: Elsa Schiaparelli on What's My Line?