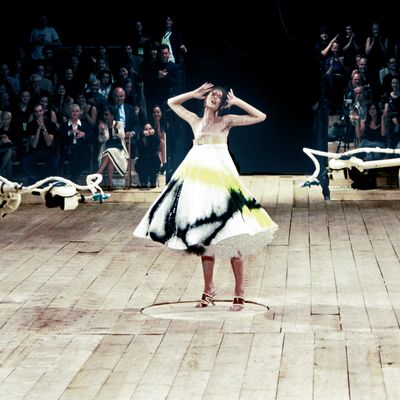 Shalom Harlow in McQueen's spring 1999 show.
Photo: Courtesy Penguin Press
There's a new theme every day on It's Vintage. Read more articles on today's topic: McQueen's Early Collections.
A typical fashion show, with deferent models, a shiny, modern setting, and pretty clothes — none of this was Alexander McQueen's style. He established that precedent early on with provocative, challenging shows that were as much dares to the viewer as fashion collections. Luckily, the designer's shows are very accessible on YouTube — listen for the shouts of joy and encouragement from the rapt audience. And look out for cameos from the decade's greatest models: Gisele, Kate Moss, Shalom Harlow, James King, Erin O'Connor, and Alek Wek.
Nihilism, spring 1994
The designer's dark, provocative point of view was already in evidence early on, with faux-blood-spattered dresses and sheer pieces revealing the models' pubic hair. This was also the show where he introduced one of his signature silhouettes, the bumster pant. "I wanted to elongate the body, not just show the bum. To me, that part of the body — not so much the buttocks, but the bottom of the spine — that's the most erotic part of anyone's body, man or woman," he told The Guardian in 1996.
Banshee, fall 1994
Watching this, it's hard to believe there are empty seats in the front row — the whole show is a revelation. When a pregnant model with a shaved head marked with McQueen tattoos walks down the runway, the audience responds with stunned applause. Already, the designer's penchant for molding the body comes across in a plaster breastplate, and his beloved Victorian references are everywhere as well. His love of shock value is already evident in the slashed garment he called the "Get Your Tits Out" sweater. And yes, before you ask, that is a baby Plum Sykes modeling in the show. (She was Isabella Blow's assistant at the time.)

The Birds, spring 1995
Tippi Hedren, Hitchcock's iconic blonde heroine, inspired this collection. (Unsurprisingly given his love of the macabre, McQueen was a fan of the director, and gorged on his films as a child.) The models wore dresses printed with sinister bird outlines and tire-track marks — the latter designed by his Saint Martins classmate Simon Ungless. For more on the collection, see Dana Thomas's in-depth overview from her biography, Gods and Kings.

Highland Rape, fall 1995

Highland Rape falls under the designer's most misinterpreted collections. "People were so unintelligent they thought this was about women being raped — yet Highland Rape was about England's rape of Scotland," he told Time Out London two years later. McQueen, whose ancestors hailed from the Isle of Skye, incorporated his family's own traditional tartan with violently ripped lace, giving the motif a grisly overtone. 
The Hunger, spring 1996

With its soundtrack of screams, the vampire-themed show saw models strut out in shirts marked with bloody handprints, a torso-encasing cast, and even a translucent corset filled with live worms. It was a collection that reveled in its ugliness: "It's the ugly things I notice more, because other people tend to ignore the ugly things," the designer told The Face in 1996. Bonus points for the street-lad models who flipped the bird while walking down the  runway.
Dante, fall 1996

Those who didn't mind a skeleton as their seatmate felt right at home at this macabre show. A lilac corset with jet beading evoked mourning dress in the Victorian era (a time period that heavily influenced the designer), while another look involved full-scale widow's weeds. However, this was far from being period costume, and you have to look no further than the sinister masks and punky spikes sticking out the models' foreheads to see that.
La Poupée, spring 1997

Walking on water is one way to get attention — McQueen perched his models on Perspex heels and had them traverse a shallow pool during the show. The innovation didn't end there — model Debra Shaw came out with her limbs encased in a metal square (an image that caused controversy because of its evocation of shackles and slavery), while the final model was encased in a tentlike dome filled with butterflies. McQueen's inspiration that season was artist Hans Bellmer, who worked with life-size dolls — think Laurie Simmons avant la lettre. Don't miss a baby Kate Moss, her eyes obscured with warpaintlike silver makeup.

It's a Jungle Out There, fall 1997

Models with their hair gelled into bestial horns, wearing pelts crafted into minidresses, antlers emerging from the edge of strong-shouldered blazers— McQueen went wild for his fall 1997 collection, which was inspired by gazelles. Despite the savage connotations, there was also a classical element — one jacket was printed with a religious painting by Robert Campin, the 15th-century Flemish artist.
Untitled (often referred to as Golden Shower), spring 1998
Set in an old bus depot, the collection was another triumph of set design, with models trudging through an ink-filled Perspex tank and being soaked with rain. McQueen got American Express to sponsor the show, but when they took umbrage with the original title, "Golden Shower," McQueen feigned ignorance of its meaning — thus the collection remained untitled. The collection also featured a corset made from human bones, the work of frequent McQueen collaborator Shaun Leane.

Joan, fall 1998
The tension is unbearable as chain-mail-clad models, wearing bright-red contacts, clamber down the runway, and as the show leads up to its inevitable finale, involving Erin O'Connor encircled in a ring of fire. It's a terrifying auto-da-fé with Satanic overtones. In fact, McQueen had become fascinated with the figure of Joan of Arc after seeing a statue dedicated to her on the Rue de Rivoli in Paris, near his Givenchy office. The tartan motif from Highland Rape recurred in this collection, while the face-obscuring red-lace look ended up on Lady Gaga a decade later, at the VMAs.
No. 13, spring 1999

This futuristic collection is best remembered for its finale, in which Shalom Harlow circles slowly on a moving piece of Lazy Susan–like scenery, while robots spray her simple white dress with jets of paint. McQueen was inspired by the artist Rebecca Horn, who had done an installation featuring robots spraying red paint. Aimee Mullins, the Paralympic athlete, also modeled in the show — McQueen carved prosthetic legs for her out of elm that were styled to look like boots.
The Overlook, fall 1999
After embracing fire the previous year, the designer opted for ice. The snowbound landscape of The Shining was evoked in this collection, complete with models ice-skating down the runway and an intricate icicle dress. A standout piece was a coiled metal corset created by Shaun Leane, inspired by the stacked necklaces worn by the Ndebele tribe of Africa. And in tribute to the Kubrick film, twin models walked down the runway hand in hand.