Waxahatchee's Wandering Spirit and Grungy Sound
Katie Crutchfield on writing "depressing songs," working with her twin sister, and more.

The new female musicians to see this summer.
Waxahatchee's Wandering Spirit and Grungy Sound
Photographs by Shae Detar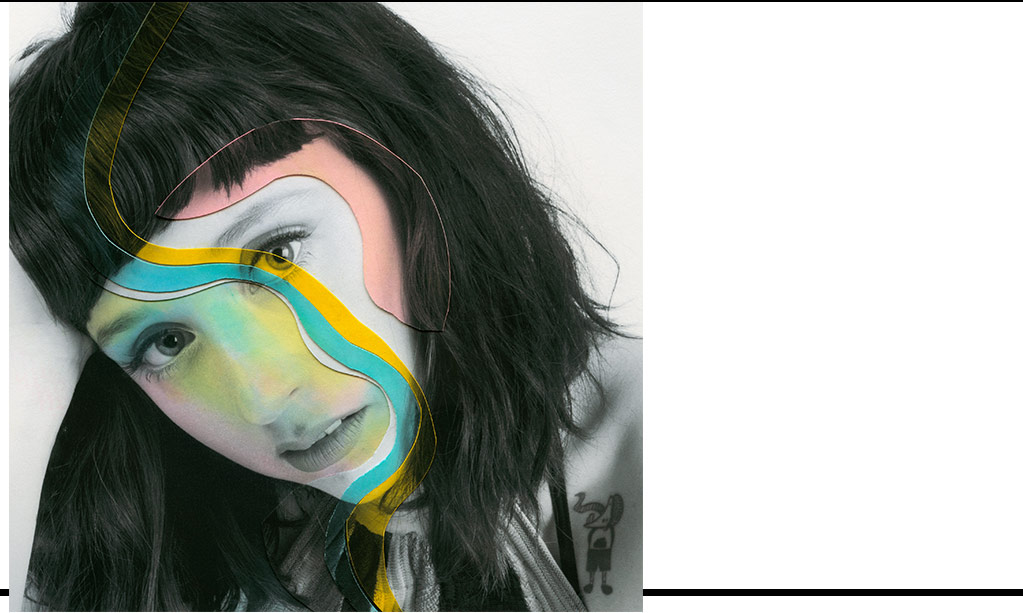 Name: Waxahatchee
Real Name: Katie Crutchfield
Age: 26
Single to Hear: "Under a Rock"
Video to Watch: "Coast to Coast"
Where to See Her This Summer: Pitchfork Music Festival, Green Man Festival, Best Kept Secret Festival, Plisskën Festival, This Is Not a Love Song Festival
Hometown: Birmingham, Alabama
Twitter: @k_crutchfield
Instagram: @waxa_katie
"I don't care if I'm too young to be unhappy," Katie Crutchfield declared in a defiant twang on 2012's American Weekend, her emotionally candid first album as Waxahatchee. Acoustic and sparsely arranged, it's a record about isolation with a perfect backstory to match: She recorded it alone, while snowed in and stranded at her parents' empty lake house on Alabama's Waxahatchee Creek. But in the years since the project's lonely beginnings, Waxahatchee has grown exponentially, both in form (her subsequent records featured a full band, including contributions from her twin sister, Allison, frontwoman of the melodic Philly punk band Swearin') and in reach (her great, grungy sophomore album,Cerulean Salt, earned her a devoted cult following). Waxahatchee's latest album, Ivy Tripp, is her most epic and expansive yet — atmospheric song structures meander and drift like overhead clouds, echoing the wanderer's spirit of Crutchfield's lyrics. "I have thought of it like this," she said recently, "Cerulean Salt is a solid and Ivy Tripp is a gas." She talked to the Cut about embracing this theme of "directionlessness" in her music, working with her twin sister, and the catharsis of singing about sadness. 
Your third album Ivy Tripp just came out in April. How long did it take you to write it?
It took me about a year to write the whole thing—maybe a little longer than that. As I was touring, I was putting some fragments together and coming up with vocal melodies. When I got done with all of the touring, I had a bunch of time off—I strung everything together and finished all the songs. 
Is there a theme that runs throughout the album?
I think it's a theme of directionlessness that runs throughout. I think depression is also a big theme of the record. It's the juxtaposition of following a certain trajectory in life, like the trajectory that our parents followed—being married, having kids, having a good job and doing the same thing every day— versus wandering around and trying to do something that makes yourself happy. Neither one necessarily makes you happy, so that's something I was really thinking about and observing a lot. 
What have you found that makes you happy?
I'm still figuring that out. That's kind of why the record doesn't come to any sort of conclusion or tie up loose ends — there's no real end-result to my observations. 
Which tracks are the most meaningful to you on Ivy Tripp?
Because Ivy Tripp covers a lot of ground, each of them are pretty special. I like different things about all of them. I like "La Loose" because it's a pop song and it was really fun to write. I always liked to write songs about heavy subjects that were sad with an upbeat melody — that's sort of my thing. "La Loose" pushed that feeling to the limit. It's a song about feeling really unsteady and depressed, but having this person hold you up. It's sort of a sad love song, which is nice. 
Were there any new bands or musicians you were listening to while making the album?  
I'm constantly influenced by music that my friends make: specifically Radiator Hospital and Girlpool. I live with Cleo [Tucker] from Girlpool. My sister [Allison] is a constant inspiration. We've never really collaborated that much, but I feel like we hear things in each other's songs that inspire us. We always send each other our songs first before we send them to anyone else. I feel like when she's signed off on something, I can put it out into the world. It's nice.
Has anyone ever come up to you after shows saying, "This song has helped me through my depression" or "This song has helped me through my breakup?"
Yeah, it happens all the time. It happens at every show, which is great. I love that. I'm happy that people can approach me and talk to me about that stuff. Writing songs helps me through a lot of stuff, so I love that the thing I do to make myself feel better helps other people feel better, too. This one person came up to me after a show crying and had just broken up with his/her boyfriend. We talked for an hour, and we became friends. It was really intense, and it was right after I finished playing. I couldn't not talk: I had to talk. It was cool. 
I know you've had a variety of hairstyles from your time in [former band] P.S. Eliot until now. What's been the best haircut you've had?
I feel the most like myself when I have really long hair. When I first started doing Waxahatchee, I had really long hair — down to my waist almost. That's when I feel really good. One time in the summer when we got home from tour, our house was really hot and didn't have air-conditioning. I went to [my twin] Allison: "I'm gonna cut it off." She was like, "It's so long. You're gonna regret this. Don't do it." So, she finally did it, and it's taken this long to grow it out. I totally regret it. Once I grow my hair out again, I don't think I'm going to cut it past my shoulders again. I'm finally getting to a point where I like it again. I think I look the best with long hair — I think I'm gonna commit for life. 
What's your experience as a woman in the music industry?
Well, I did this interview yesterday with Jillian Mapes from Pitchfork and we were talking about how one of the coolest things about being a woman playing music is that I feel like you're always trying to include women — as a generally marginalized people. Men don't have that: Men don't have that same sense of inclusion. I think that's one of the problems, that most music scenes are so male-dominated — it's so exclusionary. Because it's predominantly white men, they don't see that because they're never excluded. The cool thing about it is that you build a tighter sense of community because you want to encourage each other to make music.
At the moment, it feels like it's kind of getting better. People are having more conversations about those problems. It feels like there's more visibility for people that aren't just white men making music. At the moment it's better than it has been in the past. I don't know if there's an answer for that.
Salvatore Ferragamo woven dress with python collar, $4,450, at 655 Fifth Ave., 212-759-3822. (Photographs by Shae Detar; styling by Amanda Lee Shirreffs; makeup by Faith Bartruff.)