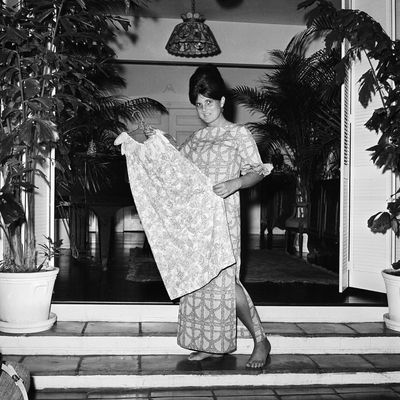 Lilly Pulitzer.
Photo: Robert H. Houston/Corbis
My mother bought me a pink gingham shift with two little slits at the hem when I was about 6 or 7, in 1966. It was called a "Minnie," and it was a Lilliputian-size copy of the "Lilly" that she got herself one winter in Palm Beach, Florida.
As I recall, she told me it was the thing to wear in Palm Beach, and that not only were people wearing them; they were talking about them, too, because their provenance was unusual: They were made by a fine lady who was married to a man named Pulitzer.
Within a few years, I too would go on vacations to Palm Beach. We would stay at the Breakers, where the drill included dressing a certain way — not just for dinner. The hotel required jackets (and ties, but maybe not ties) on all gentlemen after 5 p.m. in the public rooms — the lobby included. Women had to wear dresses or skirts.
We were not a shopping family, but somehow I always had a piece or two of Lilly Pulitzer in my arsenal.
By 1980, one could only find Lilly Pulitzer within Resort, America. Like all things seersucker, grosgrain, and embroidered with lobsters, her clothes seemed to appeal only to the particularly attired preppies of America. While on my yearlong tour promoting my book, The Official Preppy Handbook, I bought a Lilly Pulitzer floor-length halter-necked dress in a splashy orange-and-yellow print of frolicking monkeys. This was in Greenville, South Carolina, at the Junior League's Nearly New thrift shop. It was the best $5 I've ever spent. I had hit the preppy trifecta: (1) buying a trend-resistant garment (2) with an in-your-face print (3) for very little money. Part of what made her essential to this population was how very bold and yet very conservative her clothes were at once. Unshowy but not shy.
Cut to winter, 2015, when the Lilly Pulitzer company announced a collaboration with Target, and outrage followed.
No target shouldn't collaborate with Lilly just no ew ew ew keep Lilly Pulitzer classy people
—   Katherine (@kathhlambert)
lilly pulitzer collaborating with target is probably the worst news I will get in all of 2015  – Marisa Lyn Friedman @marisalynnnn
—   10:07 PM - 6 Jan 2015 Tuscaloosa, AL, United States
—   Lilly pulitzer for target?! Holy hell What's next?! the apocalypse??! affordable clothing for the masses!? Disgusting  – Pamela Beesly @trillprincess47
The venom and bile were equal to what greeted … what? Anti-vaxxers? Alleged serial rapist Bill Cosby? And why? Because a brand that has been a reliable source of party clothes for a certain group was now being mass-marketed?
The angry mob that exercised itself against the joint venture was equally infuriated when, earlier this week, the collection sold out within the first half-hour (really more like ten minutes) in all the Target brick-and-mortar stores, and caused the Lilly for Target website to crash in record time. (The goods then resold on eBay two hours later for five times the price.)
The snobbery of the outraged is hard to take. Some of the social-media postings are simply rude. The term basic bitch is rampant in the rants. In their furious quest to shore up their side of the battle, the anti-Lilly-via-Big-Box-Retail-Brigade have begun targeting me, a "spokesperson" for old school and old style, thanks to the Preppy Handbook, to weigh in against the venture. I'm receiving personal messages on the True Prep Facebook page. On Twitter, people include @LisaBirnbach within their 140-word rants. Publications both offline and on are asking me for a pithy quote. Except they forget that on the first page of my first book I wrote, "In a true democracy, everyone can be upper class and live in Connecticut." And I truly meant it in 1980 and I believe it in 2015. A lot of the women (and men) bitching about how Lilly would be rolling over in her grave if she knew about the Target collaboration — appalled by the very idea of being able to buy Lilly where you buy your Swiffer refills — don't even know why they are so angry.
Lilly Pulitzer (née McKim) was to the manor born on Long Island. After attending Chapin and Miss Porter's (with a certain Jacqueline Bouvier), she met Herbert ("Peter") Pulitzer Jr. on vacation in Palm Beach, eloped, and stayed.
At first she sold her inexpensive cotton shifts to friends. Then friends of friends. It's important to note that these styles were not made to go to work in — (unless your work was as a golf pro, a hostess at the country club, or a saleswoman at a Lilly Pulitzer boutique). So the clothing was a hat tip to your weekend or leisure activities. What's more, the barrier to entry wasn't price; it was refinement, social circle, and most important, access to that circle. As the allure of these brightly patterned dresses spread, they were only sold to that circle but as far afield as Nantucket, Edgartown, Longboat Key, La Jolla, Myrtle Beach, Bermuda, and Lake Placid. They didn't rely on advertising as much as knowing. Pulitzer never moved her business to Seventh Avenue. Somehow her work never was considered "garment industry." Her clothes were manufactured in Florida. Good luck finding a Lilly department at Bloomingdale's or Dayton Hudson's. It just wasn't possible
When the daughters and granddaughters of Lilly Pulitzer's early customers went to college, they brought their Lilly dresses to sorority rush, to formals, to creative black-tie parties. Lilly became the trusted resource for these somewhat-rigid social engagements: not too bare, not too sexy, and the wild colors make one's tans pop. It became the uniform of Greek life. These Lilly lovers became proprietary about the brand. And how. They enjoyed a close relationship with the company. (Stores would host special nights where if you were a member of a certain sorority, or say the local chapter of the Junior League, you would get a special discount, not to mention free pink-frosted cupcakes.)
Lilly herself retired in 1984 and stayed in Palm Beach. In 1993, the company was revived by a trio of businesspeople who expanded the label, which now included stretchy fabrics (the horror!) and lots of non-clothing SKUs: yoga mats, iPhone cases, towels, stationery, and so on. They sold the company to apparel giant Oxford Industries. Now you could find Lilly in national stores, in malls, and even discounted online. By the mid-aughts the appeal of the Lilly Pulitzer label had changed from being a rarity in a city to becoming the go-to brand of the young aspirant. You would see them on campus, of course — not just at Greek social events anymore, but in the career office during interview season. In Boston, in Atlanta, and all over Washington, D.C., the Lilly lady was a confident working gal. The brand with its more trendy direction had grown up with her. Whatever is at the very heart of the anger — nay, betrayal  — these forces feel, the company itself had long moved away from that clubby club.
Shoppers didn't react with rage when Missoni joined forces with Target, when Liberty of London (a venerated preppy brand) collaborated, or when Jean Paul Gaultier sold his merch at Target. At $40 a pop at Target, dresses are a major steal compared to what Lilly frocks sell for at the brand's shops or at department stores ($138 to $348), but then again Pulitzer at full retail is a pittance compared to a full-price Missoni dress ($1270 and upward) or a (former Target collaborator) Zac Posen sheath (starting at $1,990). It's not like the chorus of haters ever had to shell out even four figures for a piece of Pulitzer, but their fury is aimed at the sudden availability of Wasp-y privilege.
The Lilly I got to know somewhat, about five years ago, would not have approved of her "defenders." She invented these little frocks to cover up the citrus-juice stains she got when selling orange juice from her husband's orchards. Down to earth and earthy, she decorated her house with good stuff and with papier-mâché gewgaws. In 2010, when she put her beloved Palm Beach property on the market, she was endlessly amused by the potential buyers who were offended by the family of raccoons who had homesteaded in her driveway. Alexander Theroux once said, "Hypocrisy is the essence of snobbery, but all snobbery is about the problem of belonging." And Pulitzer, despite her last name, was no snob.