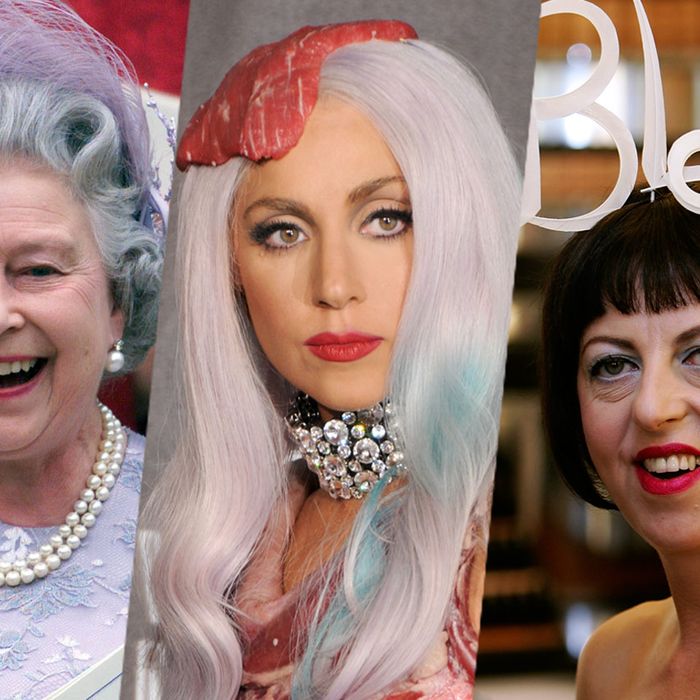 Three very different views of the fascinator, on Queen Elizabeth II, Isabella Blow, and Lady Gaga.
Photo: Getty Images
During the 2011 Royal Wedding, talk of Princess Beatrice's curlicue-laden Philip Treacy fascinator nearly drowned out the nuptials themselves. (The piece later drew $131,000 at a charity auction.) It made for fascinators' biggest moment on the world stage yet, to the point where tween accessory emporium Claire's now sells four varieties of them on its site. It's clear that people care about fancy headwear. But what, exactly, is a fascinator, and why are they banned in certain posh British circles?
1. They may have originated in Australia. According to Merriam-Webster, the word was first introduced in 1750. And you can probably credit the Aussies; some (like the clothing history blog V is for Vintage) attribute the first usage of the term to Australians. Originally, fascinators were thin shawls affixed to a headband. Although this sounds decidedly un-chic, according to the Encyclopedia Britannica blog, they are described as "alluring" (especially as a counterpart to "decorous Victorian fashion"). A fascinator made of Shetland yarn is even allegedly spotted in the 1897 Sears Roebuck catalogue.
2. The '60s' beehives (not the Beyhive) resurrect the fascinator. The author and creator of the Royal Hats blog — who goes by her first name, Rebecca, for anonymity reasons — explains, "Cocktail hats came in the 1940s; we saw fascinators come out of that. In the 1960s, with the beehive hairstyle, it was easy to tuck a feather or a veil or comb into the style." Milliner Stephen Jones tells the New York Times, "It actually was a really New York hat. If you think of Audrey Hepburn with a bit of a beehive, or Zsa Zsa Gabor, that was exactly what they used to wear."

3. In the '90s, fascinators experiences a resurgence. Stephen Jones opens his first salon in London's Covent Garden, where he hosts celebrity clients such as Boy George and Princess Diana. Meanwhile, Treacy's runway shows star the likes of Jerry Hall, Naomi Campbell, and Kate Moss. After he meets Isabella Blow, a style editor at Tatler, Treacy ends up making hundreds of hats and fascinators for her, including one that spells out B-L-O-W and one that resembles a pagoda.

4. Queen Elizabeth II wears fascinators (sometimes). To the early-afternoon wedding of Prince Edward in 1999, Queen Elizabeth II wears a sassy feather-festooned fascinator. Rebecca of the Royal Hats blog explains, "The queen embracing the fascinator is the ultimate endorsement." She later wears a similar fascinator in coral to the 2012 Opening Ceremony of the Olympics.

5. A fascinator sits front row. A Grazia reporter crankily takes in the 2010 Christian Dior couture show from behind Tavi Gevinson's giant Stephen Jones bow design. "Dior through Tavi's pesky hat," the reporter tweets. Tavi later tells Collectors Weekly, "I think it's awesome that [the headpiece] made a lot of people angry. I felt pleased with that because I spent all my time trying to prove that fashion wasn't just frivolous and could have personal or public meaning, and here you had a bunch of people somehow making a giant bow into a metaphor for the death of fashion journalism. I thought it was great."
6. Kate Middleton and Prince William's wedding creates renewed demand for fascinators. The Telegraph reports that sales of fascinators increase by 300 percent following the wedding. U.K. department-store chain Debenhams shows an 82 percent increase in sales over five months. Treacy designs a total of 36 creations for the event, including the Princess Beatrice number.

7. Fascinators face an identity crisis. Widespread coverage of the headwear seen at the Royal Wedding refers to them as "fascinators." Milliners and hatwear aficionados are quick to clarify the difference between hats, cocktail hats, and fascinators. What's the point of distinction? As Rebecca of the Royal Hats blog explains, cocktail hats have visible bases and no brims, while hats have brims and bases. Fascinators are, as Stephen Jones once put it, "just the trimming without the hat."

8. The fascinator backlash begins in earnest. One non-fan emails Treacy to inform him that the hat/fascinator he designed for Princess Beatrice "had done more to bring down the monarchy than at any other time in history!" he told the Telegraph. In the British fashion industry, fascinators also begin to be seen as a frivolous, expensive accessory of the rich. Lisa Armstrong, the Telegraph's fashion editor, explains, "The fashion world has always hated them. They have been caught up in the whole tipsy hen night image, of things falling off drunk girls' heads. Then the Sloaney set took them up – and anything that the Sloanes adopt is immediately derided by fashion experts."
9. Fascinators are banned from at least one aspect of a posh event. The Royal Ascot's horse race makes BBC news when it bans fascinators in the Royal Enclosure. Organizers rule that women must wear bona fide hats, in a move they said was designed to "restore formality."

10. Lady Gaga wears a meat head fixture to the 2010 MTV Music Video Awards. Having now made it to the end of this explainer, you know that it was a meat fascinator and not a hat.