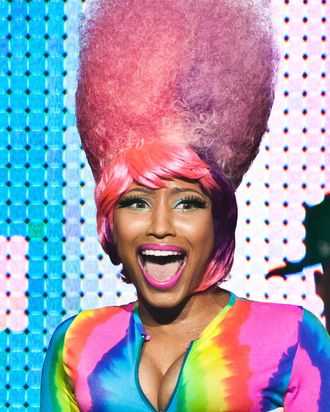 Nicki Minaj.
Photo: Chelsea Lauren/Getty Images
If we're looking for someone to write the next major book of career advice for women, I nominate Nicki Minaj. As she boasts on "Truffle Butter," she is the top-selling female rapper, so she's obviously qualified to become the next Sheryl Sandberg figure. But a Minaj-style Lean In might be even more effective because it will include tips like the ones she recently shared with Glamour. For example, this piece of advice about power-dressing:
"I like looking more toned down now. I haven't been doing it for other people; I've been doing it for myself. I do think when people see you [looking more] toned back, they take you more seriously. But women should do what makes them happiest and strongest. I wore my colorful wigs to meetings with millionaires and people I'd looked up to forever. I was a businesswoman closing humongous deals even when I had pink hair."
No telling if she'll actually pen that tome, but for now we can just consider The Pinkprint her version of Lean In.