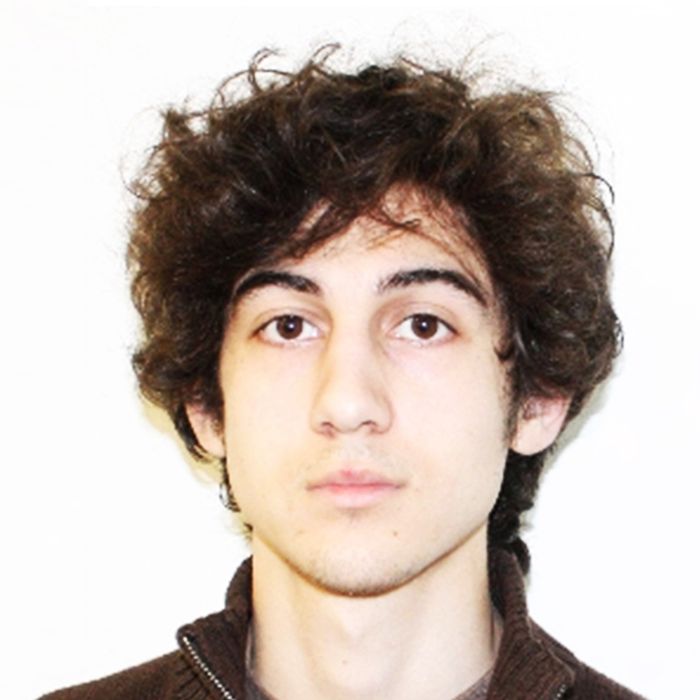 Dzhokhar Tsarnaev faces the death penalty during the sentencing phase of his trial, which started April 21 and is currently ongoing in Boston. And as the defense mounts arguments endeavoring to convince a jury that this 21-year-old — who, with his brother, killed three people at the 2013 Boston Marathon, injured 264, and then shot and killed an MIT police officer three nights later — has a life worth saving, it's useful to remember that Boston is a Catholic town. And the court system in which the drama is unfolding is pretty Catholic, too. Carmen Ortiz, the U.S. attorney in Boston who has said she supports seeking the death penalty in the Tsarnaev case, was raised a Catholic. The federal judge presiding over the case, George O'Toole, went to Boston College, a Jesuit school. Odds are about even that any one of the lawyers prosecuting the case, the members of the public defender's team, or any member of the jury was raised in Boston as a Catholic.
This is notable for many reasons, but one of them is that, at the moment, U.S. Catholics are having an anguishing war with themselves — with their individual consciences and their tradition — over capital punishment. In general, they support it, but with far less avidity than they used to. Their leaders, including conservative intellectuals and an overwhelming number of American bishops, are finding fewer and fewer rationales to legitimately approve of state-sanctioned executions. The new pope, Francis, has repeatedly said that he's adamantly opposed. Yet for centuries the tradition has permitted states to execute criminals, and, even today, the Catechism doesn't outlaw it completely, saying instead that it should be "very rare." 
Thus the Tsarnaev trial can be seen as a test case, a measure of how Catholics in a Catholic town are considering, or reconsidering, the way they think about that most Catholic of first principles: "the sanctity of human life." Earlier this month, Bill and Denise Richard — the parents of 8-year-old Martin Richard, a bombing victim — made a public plea not to impose the death penalty on Tsarnaev. Two years ago, they held a Catholic funeral mass for their son. They didn't invoke religion when making their case, but alluded to it, perhaps, when they begged Bostonians to remember the "resiliency of the human spirit" and not to reach for vengeance. Cardinal Sean O'Malley, head of the Archdiocese of Boston, and the bishops of Massachusetts have issued statements against the death penalty in this case — statements that appear to reflect the broader views of Bay State residents, fewer than 20 percent of whom support executing Tsarnaev, if a recent Boston Globe poll is to be believed. 
Still, many of the maimed victims of the bombing insist that Tsarnaev deserves to die. And when Pew polled Americans on the death penalty last week, a majority of white Catholics said they supported it: 63 percent.
It used to be easy for an American Catholic with conservative political inclinations to find, in Church tradition, overwhelming support for a pro-death-penalty view. There's the Bible, of course, the original source document for "an eye for an eye" and full of rules concerning who does (and doesn't) deserve to die by stoning. St. Augustine supported the death penalty, and so did Thomas Aquinas. Tradition has long held that the church exists within a state, which may in turn punish criminals as it chooses, for deterrent effect and to protect public order. According to an outdated version of the Catechism, the church sanctions "the right and duty of legitimate public authority to punish malefactors by means of penalties commensurate with the gravity of the crime, not excluding, in cases of extreme gravity, the death penalty."
Pope Pius XII, during World War II, said that in imposing death, the state isn't depriving a person of the "right to life" so much as taking the life to which a person, in committing murder, had already surrendered his right. And Supreme Court Justice Antonin Scalia, an observant Catholic, has repeatedly asserted his conviction that the death penalty is moral. If he believed that in supporting capital punishment he was going against his church, he said, he would have to resign the bench. "I am part of 'the machinery of death,'" he said in 2002. "My vote, when joined with at least four others, is, in most cases, the last step that permits an execution to proceed. I could not take part in that process if I believed what was being done to be immoral."
It was, perhaps ironically, only when the Church became a visible and vocal opponent of abortion rights that strong opposition to the death penalty within the hierarchy and in Catholic parishes, began to emerge as well. The "right to life" movement founded its rhetoric in the Catholic principle of "the sanctity of life" — the idea that all lives are given and sustained by God, that they should be treated with the dignity that such a miraculous gift merits, that God alone is the ultimate judge of sin. Starting around 1980, anti-abortion activists claimed for themselves the term "pro-life," a stance that referred, explicitly, to this principle as it applied to all life, including fetuses. In his 1995 document, Evangelium Vitae, Pope John Paul II included as a violation of this right, other types of death caused by human intervention: euthanasia and suicide.
This forced a question among lay Catholics that had been left until then to theologians to cogitate upon: If the life of a fetus is sacred and given by God, then isn't the life of a sinner? Including that of a convicted murderer? If Catholics are called on to regard all living humans (including fetuses) as deserving of God's mercy, then why exclude people on death row from this group? In Evangelium Vitae, John Paul II began the process of officially reversing centuries of tradition, saying that if a just society has the means to keep an aggressor from harming its citizens without imposing a death sentence — i.e., by keeping that person in prison — it should. The death penalty should be "very rare," he wrote, "if not practically non-existent." This was the language that the editors of the new Catechism used when it was published in 1997. Francis has gone farther. Capital punishment is "inadmissible," he wrote last month. It "does not render justice to the victims but fosters vengeance."
In the wake of these shifts, a new Pew poll released earlier this month shows Catholic support for the death penalty eroding. Forty-two percent of American Catholics oppose capital punishment, up from 36 percent four years ago. Partially, this is a result of the changing tenor of the church on the question of capital punishment. And partially, it's a result of the Latin-ization of the American church. Immigrants from Central and South America have different priorities than white Catholics; they oppose capital punishment in far greater numbers, and they comprise an ever-growing portion of the American faithful. Today, one in three American Catholics is Hispanic. And, according to the Public Religion Research Institute, nearly 60 percent of Hispanic Catholics favor life in prison over death.
To hand down a death sentence, the 12 jurors in the Tsarnaev case have to be unanimous, a heart-wrenching decision in a Catholic town. But Republican candidates for president would do well to keep an eye on the result. Jeb Bush, for one, has made much of his Catholic conversion; that, and his tenure in Florida, make him naturally suited to court the Hispanic vote. But Jeb has a record of being very aggressive on capital punishment — overseeing 21 executions during his time as governor — a position that increasingly puts him at odds with his constituency and his church.